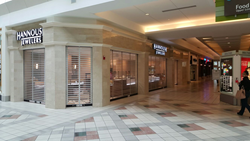 Braintree, Mass. (PRWEB) November 21, 2015
Hannoush Jewelers is excited to announce that on Friday, November 20th…at 10 a.m. our newest store will open at South Shore Plaza, 250 Granite Street in Braintree, MA.
Hannoush Jewelers, a family run company with over 50 stores throughout the country is excited to expand into South Shore Plaza. The first Hannoush jewelers opened 35 years ago in Massachusetts. Hannoush continues their philosophy of family ownership and personal attention to fine detail by offering a wide variety of luxury brands, exquisite color diamond jewelry as well as unique gemstone designs and loose diamonds.
"We are very excited to be opening our 17th store in Massachusetts," said Camile Hannoush, in a prepared statement." We look forward to welcoming South Shore Plaza patrons to our family of stores and our traditional values. Our friendly staff will assist guests in choosing quality pieces of jewelry. Whether it is to begin a new journey in life or a celebration of the life lived. Our stores not only offer great quality - but also a uniquely expanded selection of products.
Among the original designs of jewelry made by Hannoush are quality brands such as Petra Azar, Pandora, Alex and Ani and Demarco to name a few. We are constantly expanding our product lines with the latest brands and designs. This assortment means a guest can count on ever-evolving product lines and expansive selection. Our highly skilled staff and a genuine desire to make every guest a customer for life is the DNA of our company and our commitment.
Hannoush Jewelers Welcomes South Shore Plaza in Braintree, MA to our family of stores.
Hannoush is currently accepting applications for qualified sales associates and sales support staff. Inquire in store or visit us on the web at http://www.hannoush.com