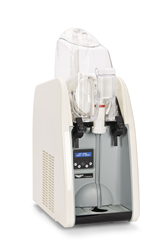 Sheboygan, WI (PRWEB) November 23, 2015
The Vollrath Company, LLC, the premier manufacturer of foodservice equipment and smallwares, increases frozen treat menu offerings for a growing market with the addition of the Stoelting® Mini Soft Serve Countertop Freezer.
With a small footprint and portable, lightweight design, the Mini Soft Serve Freezer is ideal for small restaurants, delis, bakeries, food trucks and convenience stores looking to expand their frozen and cold dispensed beverage offerings, while saving valuable counter space. Operable with both commercial dry and liquid mixes, the Mini Soft Serve Freezer can make a variety of high profit margin frozen treats including ice milk, ice cream, yogurt and frozen dietary desserts.
The user-friendly Mini Soft Serve Freezer, which can easily be disassembled for cleaning, features a horizontal auger that gently folds product over the machine's freezer plate for a creamy and consistent product that prevents buildup and waste. The machine has an adjustable auger and automatic or manual modes, along with a unique seal-less drive shaft, designed to eliminate preventative maintenance and mandatory seal replacements.
About the Vollrath Company
The Vollrath Company, based in Sheboygan, Wisc., has a reputation for the design, development and manufacture of the foodservice industry's finest smallwares and equipment. With a collection of exceptional people, industry leading products, and helpful consultative services, Vollrath is assembled for one purpose – to advance the art of hospitality. For more information about The Vollrath Company, its products, facilities in the US, Europe, Mexico and China, and the 19 foodservice industries it serves, visit http://www.vollrathco.com or search "Vollrath" to find us on Facebook or Twitter. For media inquiries, contact Tiffany Wieser at 920-459-5223 or via e-mail at tiffany.wieser(at)vollrathco(dot)com.