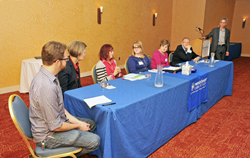 "A common theme that runs through all our accomplishments this year is the goal to create and improve opportunities between libraries and the communities that they serve," remarked Terry Kirchner, WLS Executive Director."
Tarrytown, New York (PRWEB) November 23, 2015
Among the WLS service highlights of note this year are:

Enhanced access to electronic resources with self-learning tools available 24/7 such as Lynda.com (an extensive video library of top-quality courses taught by recognized industry experts) and University of Fashion (online video lessons created by fashion industry professionals), available to all patrons with a Westchester Library Card;
Improved access to library content and ADA accessibility for the online library catalog;
Second Annual Battle of the Books, a book trivia competition held in October that included teams from more than half of WLS libraries and engaged over 200 youth and teens in reading and friendly competition;
WLS Unlimited Possibilities Mini-grant Initiative, a grant program established with funding from Con Edison, Entergy, and the H.W. Wilson Foundation to fund community engagement projects that foster creativity and love of learning for all ages. Grants supported informal learning programs in the areas of STEAM (Science, Technology, Arts, and Math)for youth, teens, and adults in libraries throughout the County;
Continued participation as a Westchester County Senior Law Day partner and website host of 24/7 information site;
Library staff training programs focused on mental health education;
Ongoing WLS sponsored programs, theWEBS Career and Educational Counseling Service, Westchester Seniors Out Speaking, and Senior Benefits Information Centers were recognized with the 2015 Distinguished Public Health Service Award from the Westchester County Board of Health;
And thanks to New York State, money was included for Library Construction Aid in the 2014-15 budget; a total of $669,526 was awarded to 15 WLS libraries for 16 library projects. The majority of these projects were for improvements to the basics--roofs, HVAC systems, lighting, an elevator and a back-up generator.
"Libraries are a powerful community engagement tool; they are educational spaces that support and encourage informal and active learning. Current trends include rethinking of library spaces to foster more hands-on activities, with community meeting and working spaces," noted Dr. Kirchner. Evidence of these trends are found throughout the library system.
On hand to talk about how their libraries are aligning with these trends were Brian Kenny, director, White Plains Library; Maureen Petry, director, The Warner Library (Tarrytown), former Field Library Adult Reference and Young Adult Librarian, Liz Anastasi; and Hendrick Hudson Free Library (Montrose) Assistant Director Risa Getman.
Among the projects cited were: At White Plains Library, makerspaces and a designated teen area, The EDGE, has transformed teen programming with hands-on audio visual, 3D printing and music editing equipment. In Peekskill, a WLS Mini-Grant integrated fashion and technology and brought new teens into the library to create electronic fashions. Many of them continue to come just to "hang-out". At The Warner Library, teens are learning to use software to create a digital model village design as part of the public input component for the study of the Metro North Train Station. There is plenty for adults at the library too – at Hendrick Hudson Free Library (Montrose) a successful Creative Aging Grant funded a teaching artist to work with a group of 12 adults in the spring; it developed into the creation of an on-going Community Theatre group at the library – to the delight of the entire community.
Westchester library patrons are enthusiastically taking advantage of library programs and services. System-wide statistics show that there were 7,488,874 visits to Westchester libraries in 2014 and 1,515,423 questions answered by library reference staff. The future is not without its challenges however as Westchester libraries continually strive to operate with low to no budget growth, increased demand for services, and a rapidly changing environment. "One of the real strengths of the library community is our resilience, noted Dr. Kirchner in his remarks. "Our pending death has been pronounced numerous times, and yet we keep re-defining our services in ways that stay true to our mission while continuously improving services to our communities. Successful libraries listen to their communities, adapt to meet their anticipated needs, and find ways to inform the community about the services that are available."
Included in the evening activities was the election of new Trustees during a brief Business Meeting presided over by WLS President Chris Hansen. The following trustees were elected to a 5-year term expiring as of December 31, 2020: Julie Mills-Worthey of Mount Vernon representing WLS District XIII [Mount Vernon]; Alex Payan of Port Chester representing WLS District X [Port Chester, Rye Brook, Rye City, Rye Town]; and Sean Ryan of Armonk representing WLS District V [Armonk, Bedford Village, Mount Pleasant, Pound Ridge].
About the Westchester Library System
The mission of the Westchester Library System (WLS) provides services and support that assist Westchester's 38 public libraries' efforts to empower and improve communities with extensive open access to information, technology and personal development tools. The Westchester Library System is a 501 © 3 nonprofit organization and is located at 540 White Plains Road, Suite 200, Tarrytown, NY 10591. Visit the WLS website at http://www.westchesterlibraries.org