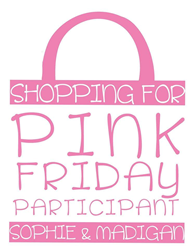 (PRWEB) November 23, 2015
Rather than waiting for Black Friday, take this opportunity to get your holiday shopping started a week earlier while shopping local companies and supporting Sophie and Madigan's Playground 501(c)3. On Friday, November 20, participating businesses will donate a portion of their sales to Sophie and Madigan's Playground. Over 25 businesses are located in Downtown Frederick and surrounding areas, and 45 businesses are online, so you can shop from anywhere.
Sophie and Madigan Lillard at ages 6 and 3 passed away in a devastating house fire in 2013. The Lillard family created the Sophie and Madigan's Playground nonprofit organization which puts on events in Frederick that help families Play! Learn! and Create! Sophie and Madigan's Playground will also build a unique regional memorial park in Frederick which will honor the personalities of Sophie and Madigan and draw visitors from all around.
For more information and the full list of participating businesses, please visit:
https://www.facebook.com/events/1731380590424052/1736745103220934/