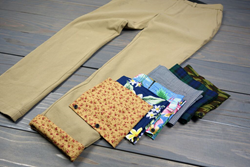 In every product, Wolfe & Packe strives to achieve the perfect balance of craftsmanship, comfort, performance and aesthetics.
Los Angeles, CA (PRWEB) November 19, 2015
The Venture Pant has launched for the world to experience on its popular Kickstarter campaign. The Venture Pant was created for whatever life brings, whether facing the streets in a big city, or braving Himalayan Trails.
What makes The Venture Pant truly unique and different from anything on the market today is the ability to instantly customize your look. It is the first tailored chino pant designed with interchangeable contrast cuff linings, which are revealed once the pant legs are rolled up.
The Venture Pant, on the outside, consists of one cohesive chino pant silhouette with a tailored fit. The addition of a breathable, lightweight full pant lining and discreet interior buttons toward the leg opening enable the wearer to easily switch out different contrast cuff linings, or remove them entirely, to create fresh new looks that suit the wearer's needs. No other pants on the market have this type of ability and versatility.
The Venture Pant is not only stylish but it's a high performance chino pant with abrasion resistant four-way stretch, water repellence and durable topstitching, engineered to take you from dining and dancing to hiking and biking without stopping in between.
The Wolfe & Packe team understands the need for well-tailored garments that feel liberating instead of restricting. They have solved the problem of stiff, uncomfortable, and boring dress pants by creating the most refined yet versatile garment that can be worn in nearly any place at any time.
"We've all had to make compromises for far too long: trade style for comfort, comfort for function, function for style - it's time to evolve," said Janie Trinh, Wolfe & Packe Creative Director. "In every product, Wolfe & Packe strives to achieve the perfect balance of craftsmanship, comfort, performance and aesthetics."
The unique Venture Pant is patent pending and is available with Early Adopter specials on their Kickstarter campaign page until Dec.30, 2015.
About Wolfe & Packe
An American performance apparel brand that combines the best of comfort, aesthetics, and functionality to inspire a life of freedom and adventure. Wolfe & Packe redefines traditional meanings of clothing by combining expert tailoring with innovative fabrics and clean designs. We engineer garments that break conventional barriers and answer the demands of the modern lifestyle.
For more information, visit http://www.wolfeandpacke.com/