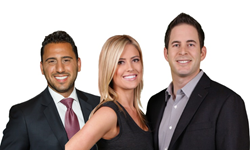 This one-day event is an opportunity for the general public to learn from some of the greatest minds in the real estate business today.
Los Angeles, CA (PRWEB) November 20, 2015
Request For Coverage:
FLIPFEST LA,takes place tomorrow, a day-long event to give attendees an edge in LA's fiercely competitive house flipping market, and help them maximize real estate income without costly mistakes The seminar is being held at the Westin L A Airport Hotel 5400 W. Century Blvd. LA, CA 90045, and runs from 8:00 AM to 5:00 PM (PT).
The event features star speakers including:

Adam Carolla Podcaster turned Real Estate Renovator from SpikeTV To Catch A Contractor on how to avoid contractor disasters
Josh Altman Top LA broker & author of It's Your Move, with over $1.5 Billion in sales from Bravo Million Dollar Listing LA on how to sell anything
Dave Seymour A&E's Flipping Boston Rehab Expert, a thrilling rags to riches story who'll show how to make money in LA
Tarek & Christina El Moussa with over a decade of professional real estate experience from Bravo's Flip or Flop with unique strategies to give attendees an edge
Attendees receive:Certificate of Real Estate Investing, Alumni Gold Cloisonné Lapel Pins, MP3 Player, and 50 Ways To Find Your Next Flip Educational CD.
Interviews are available to media on topics including:

Hot neighborhoods for flipping in LA
The state of flipping in LA
The rise of the real estate agent superstar brand
5 hot tips on flipping
How to use other people's money to flip
MEDIA CONTACT: Steven Greene (917) 656-1837 sperlingreene(at)gmail(dot)com