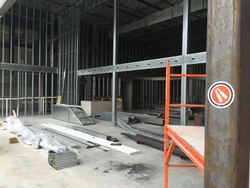 Austin, TX (PRWEB) November 20, 2015
Kung Fu Saloon will soon be bringing pickle shots and vintage arcade games to North Austin. As a part of the Domain Rock Rose development, the Texas-based bar has already started construction with some big ideas for their 4th location.
Domain Phase 3 is set to be complete in 2016, quickly expanding as 'Austin's second downtown.' 25-30 tenants are coming together from all across Central Austin. Brought together by Endeavor Real Estate Group, they are working to bring Austin originality and creativity to the Domain area in order to keep North Austin weird.
Kung Fu Saloon started out with their original location on Rio Grande Ave in Austin in 2009 and has since expanded to the Houston and Dallas market. Each location has it's own unique vibe and they plan to keep that going with the newest addition, hyped to be one of the truest game bar experiences yet.
"We're really excited to be a part of this new development," said managing partner Nick Adams. "Endeavor has been great about getting us to push our creative limits. We've got a few cool aspects lined up for this new location because of that."
You'll have to stay tuned to the Kung Fu Saloon social media pages to get the insider look of the construction process. Each week, they'll be posting more information about what to expect with the opening of Kung Fu Saloon Rock Rose.
Voted 'Best Game Bar', Kung Fu Saloon is Texas's most unique watering hole with vintage arcade games, giant board games and a full bar to quench your thirst. Kung Fu Saloon has been bringing the kid in all of us to life since 2009 with the first location in Austin. Since then, they have expanded to Dallas and Houston with pickle shots, karaoke rooms and Kung Food. The Texas-based company is currently expanding further with the 4th location opening in the Austin Domain area in 2015 and a 5th in Nashville. For more information, please visit: http://www.KungFuSaloon.com. Follow on social media: Facebook: https://www.facebook.com/kungfusaloon Twitter and Instagram: @KungFuSaloon