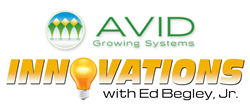 (PRWEB) November 23, 2015
Avid Growing Systems announced today that they will be featured in an upcoming episode of Innovations with Ed Begley Jr., airing first quarter 2016 via Discovery Channel and Fox Business. Dates and show times TBA.
Avid Growing Systems is the manufacturer of large scale, turnkey vertical marijuana growing systems. In this episode of Innovations, viewers will learn how Avid combined the skills of experienced, proven growers with a dedicated engineering team of HVAC, lighting, irrigation and computer specialists to create a reliable and functional growing solution that produces incomparable yields at lower operational costs.
"We're here to take the voodoo out of commercial growing" said Patrick Gagne, Avid's CEO. "Every aspect of the business, in terms of cultivation, can be monitored and controlled remotely from a smart phone, tablet, or laptop via a secure VPN connection, including real time video."
"Avid Growing Systems believes in cultivation through innovation," said Robert Sikich, Producer for the Series. "The company offers the necessary expertise, information, and training to grow the best product in the shortest time at minimal production cost. We look forward to educating audiences on this amazing turnkey service."
About Avid Growing Systems:
Avid Growing Systems, a Canadian company with headquarters in Niagara Falls, Canada designs, manufactures, and installs cutting edge, fully automated, vertical growing systems for the marijuana industry. Avid's patent pending, proprietary technology enables their customers to fully control all of the key variables necessary to produce marijuana with dependable yields, within the regulatory requirements of even the strictest jurisdictions. For more information, visit: http://www.avidgrowing.com.
About Innovations and DMG Productions:
Innovations, hosted by award winning actor Ed Begley, Jr., is an information-based series geared toward educating the public on the latest breakthroughs in all areas of society. Featuring practical solutions and important issues facing consumers and professionals alike, Innovations focuses on cutting-edge advancements in everything from health and wellness to global business, renewable energy, and more.
DMG Productions (responsible for creating the Innovations show) includes personnel specialized in various fields from agriculture to medicine, independent films to regional news and more. Field producers work closely with experts in the field to develop stories. This powerful force enables DMG to consistently produce commercial-free, educational programming that both viewers and networks depend on. For more information visit http://www.InnovationsTelevision.com or contact Robert Sikich at (866) 496-4065 x 805 or via email at Robert(at)InnovationsTelevision(dot)com.