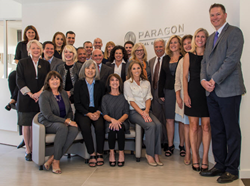 Paragon Real Estate Group continues its rapid growth with four hyper local expert agents in its Greenbrae Office.
San Francisco, CA (PRWEB) November 23, 2015
Paragon Real Estate Group has announced the addition of four productive Realtors to its Marin offices. Ksenia Lister, Mike Schoback, Beth Gassel and Steve Marsh bring a wealth of expertise and hyper-local real estate knowledge to the Paragon umbrella.
Ksenia Lister - Born and raised in Russia, Ksenia moved to California and graduated from U.C. San Diego with a degree in International Economics and Political Science. Her background in international business is an important part of her ability to present properties and negotiate contracts with clients from all backgrounds when needed. Ksenia and her husband Craig have two daughters, Matilda and Polina. She is an active and supporting member of the Marin Community. Her close involvement with the school and community provides her clients with priceless insights into life in Marin.
Mike Schoback - Mike is a proud to have spent much of his life in the Bay Area. He graduated from University of California, Berkeley, where he was a letterman on the Cal Men`s Rowing Team, an All-Pac-10 honoree, and U.S. Rowing Association National Champion. He lives with his wife and family in San Rafael, where he`s been a homeowner for almost on 20 years.
Beth Gassel - Beth began her career at Chiat/Day advertising developing marketing campaigns for Fortune 500 Companies such as Nissan and Infiniti Corporations. After relocating to the Bay Area in 1995, Beth worked in travel and incentive planning before embarking on an 8-year career with Gap Inc. in Global Store Operations. Through her varied professional experiences, Beth has a sharp attention to detail, a customer-centric work style and a calm, positive demeanor to guide her clients through what is often of their largest financial transactions. When Beth is not working in Real Estate, she is busy raising three young children. She is actively involved in the Parent Service Association at their school and loves spending time outdoors with her family along hiking and biking trails throughout Marin County.
Steve Marsh - As a lifelong resident of Marin County, Steve remains very active in the community, coaching baseball, and sailing for both the St. Francis Yacht Club and San Francisco Yacht Club. Steve Marsh is personable and dedicated to his clients and colleagues. He is passionate about his work while providing unparalleled service, strong negotiating skills and a superb knowledge of Marin County`s many unique neighborhoods, businesses, and schools.
About Paragon - Paragon is a locally owned and managed real estate company in the Bay Area that conducts business across all market segments – residential and luxury home sales, investment and commercial property sales and leasing, new home sales and rentals. We have built our success on preparing for and ensuring yours. http://www.Paragon-RE.com , 1400 Van Ness, San Francisco, CA. 94123. 415-738-7000.