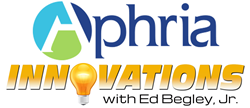 Leamington, ON (PRWEB) November 24, 2015
DMG Productions announced that they will feature Aphria, Inc., in an upcoming episode of Innovations with Ed Begley Jr., airing first quarter 2016 via Discovery Channel. Dates and show times TBA.
Aphria, Inc., is a publicly traded company incorporated under the laws of the Province, and is in the business of producing and supplying medical marijuana pursuant to the Marijuana for Medical Purposes Regulations (the "MMPR").
Aphria offers the greenhouse advantage, cultivating over 30,000 marijuana plants at its facility operating in Leamington, Ontario, south of Windsor.
In this segment, viewers will learn about Aphria, its medical cannabis, and how by controlling all the critical factors that makes marijuana a safe and effective medicine, Aphria is able to provide consistency, predictability, safety, and effectiveness.
"Aphria is honored to have been chosen for a feature spot on an upcoming episode of Innovations. We are very excited to put the Canadian town of Leamington on a global-stage and share the Aphria story," said Vic Neufeld, CEO.
"Aphria believes that processes and procedures need to be established and technology needs to be adopted to ensure utmost quality," said Robert Sikich, Producer for the Innovations TV series. "We look forward to enlightening our viewers on the revolutionary changes taking place in the medical marijuana industry."
About Aphria:
As Canada's only 100% greenhouse licensed producer, Aphria utilizes the many benefits of natural sunlight with the Greenhouse Advantage. Consistency, predictability, safety and effectiveness are its priority as this emerging industry gains momentum in Canada. For more information, visit: http://www.aphria.com
About Innovations and DMG Productions:
Innovations, hosted by award winning actor Ed Begley, Jr., is an information-based series geared toward educating the public on the latest breakthroughs in all areas of society. Featuring practical solutions and important issues facing consumers and professionals alike, Innovations focuses on cutting-edge advancements in everything from health and wellness to global business, renewable energy, and more.
DMG Productions (responsible for creating the Innovations show) includes personnel specialized in various fields from agriculture to medicine, independent films to regional news and more. Field producers work closely with experts in the field to develop stories. This powerful force enables DMG to consistently produce commercial-free, educational programming that both viewers and networks depend on.
For more information visit http://www.InnovationsTelevision.com or contact Robert Sikich at (866) 496-4065 x 805 or via email at Robert(at)InnovationsTelevision(dot)com.