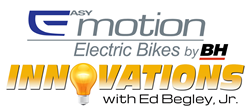 Jupiter, FL (PRWEB) November 25, 2015
DMG Productions announced today that they will feature Easy Motion USA in an upcoming episode of Innovations with Ed Begley Jr., airing first quarter 2016 via Discovery Channel. Dates and show times TBA.
Easy Motion USA is an electric bike company developed by BH Bicycle Corporation of Spain. Creating a brand that combines some of the oldest roots in the bicycle industry with the latest technologies.
In this segment of Innovations, viewers will learn about Easy Motion's leading edge offerings for road, mountain, hybrid, urban and folding bike categories, which are the most bicycle-like electric experience.
"We are very excited to work with Innovations so that we can explain to their viewers why ebikes (electric bikes), are one of the fastest growing, healthy, environmentally friendly forms of fun, fitness, and transportation in the world. Ebikes are truly for everyone, and it is a product that has a multitude of benefits for all ages and fitness levels. We are looking forward to explaining this world wide phenomenon," said Steve Lindenau, CEO of Easy Motion Electric Bikes.
"BH designs, tests and builds bikes that balance all aspects of performance," said Michael Devine, Producer for the series. "Whether it is racing at the highest level or riding around the block each model is maximized for the rider's intent. We look forward to educating audiences about their amazing offerings."
About Easy Motion:
Easy Motion is owned by BH Bike Corporation of Spain. BH is a privately held, 107 year old bike company that has been owned and managed by the same family during its entire existence. It is known for making a wide variety of high quality bikes that include bicycles raced on by Tour de France professional teams, commuting bikes, mountain bikes, and children's bikes.
BH Bicycles got into the ebike (electric bike) sector in 2009 with its Easy Motion brand. The design concept is, and remains to make the most innovative ebikes in the world with the sleekest design. Easy Motion is one of the best selling ebike brands in North America."
For more information, visit: http://www.emotionbikesusa.com
About Innovations and DMG Productions:
Innovations, hosted by award winning actor Ed Begley, Jr., is an information-based series geared toward educating the public on the latest breakthroughs in all areas of society. Featuring practical solutions and important issues facing consumers and professionals alike, Innovations focuses on cutting-edge advancements in everything from health and wellness to global business, renewable energy, and more.
DMG Productions (responsible for creating the Innovations show) includes personnel specialized in various fields from agriculture to medicine, independent films to regional news and more. Field producers work closely with experts in the field to develop stories. This powerful force enables DMG to consistently produce commercial-free, educational programming that both viewers and networks depend on.
For more information visit http://www.InnovationsTelevision.com or contact Michael Devine at (866) 496-4065 x 824 or via email at michael@innovationstelevision.com.