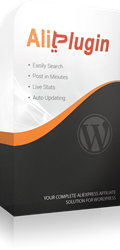 Dubai, UAE (PRWEB) November 20, 2015
Improved and supplemented AliPlugin version with new important features has been launched by Ali Partnership Company to make the work of AliExpress affiliates even more profitable.
AliPlugin continues to gain popularity amongst online entrepreneurs from all over the world. More than 4,000 sites have already been built with its help, and over 2,000 people from 150+ countries who have installed AliPlugin now run lucrative online projects with stable passive income.
To create an ideal affiliate tool, Ali Partnership Company is constantly improving its product. The new version has been launched with two vital features added:

Product pages are now complemented with an active timer and a strong call-to-action, which works to motivate visitors to make urgent purchases on AliExpress. It is especially helpful in the context of the recent big changes to the AliExpress partnership program: the retailer increased its affiliate commission to 8%, but cut the cookies time limit from 30-days to one session. Now product pages of webstores built with AliPlugin are perfectly optimized to encourage quick actions by visitors, therefore maximizing conversions.
A second affiliate program has been added. Now every owner of an AliPlugin-based site can enjoy great opportunities for earning not only with AliExpress, but also with Alibaba.com, the world's greatest eCommerce platform. This program offers unprecedented commissions of $3.50 for just contacting a supplier, as well as a long 30-day cookie time limit. The new feature is optional and can be switched on and off as required.
This all means that the optimized AliPlugin allows affiliates to not only maintain current profits, but also even boost them.
"We constantly monitor trends in the affiliate market as a whole, and especially news from AliExpress and Alibaba" – says Yaroslav Nevsky, COO and co-founder of Ali Partnership Company. "We do it on a daily basis; we always respond immediately to every change and optimize AliPlugin for its maximum profitability. This is what makes our affiliate stores unique and highly competitive. We are sure that our clients will appreciate the improvements we've made."
The new version of AliPluginis available right now at alipartnership.com. Contact Ilya Dolgikh Phone: 639055526593 for visit the website for more information.
###