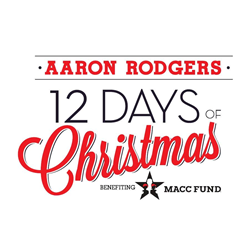 The MACC Fund has been around for nearly 40 years, long before I was born and it's going to carry on long after I'm gone. But right now, I have an opportunity to have an impact on it to help the children. - Aaron Rodgers
Milwaukee, WI (PRWEB) December 01, 2015
Kohl's and the Milwaukee Journal Sentinel announce the 4th Annual Aaron Rodgers' 12 Days of Christmas campaign to support the MACC Fund, a nonprofit organization dedicated to funding research into the effective treatment and cure for childhood cancer and blood disorders.
"Kohl's has made a wonderful commitment to its hometown and to the causes of children across the country," said MACC Fund President Jon McGlocklin. "We are partners in support of Children's Hospital of Wisconsin, one of the nation's leading hospitals for children. It is exciting to know that there are companies like Kohl's and the Milwaukee Journal Sentinel to join our friend and benefactor, Aaron Rodgers, to focus on the journeys of 12 children over 12 days. This campaign is a 'trifecta of Hope' that exemplifies the spirit of the holidays."
The local community may get involved in Aaron Rodgers' 12 Days of Christmas while they do their holiday shopping. Milwaukee-area Kohl's stores will donate 5 percent of the net sales of all eligible toy purchases made between Dec. 1 and Dec. 12, 2015, to the MACC Fund.
Once again this year, 12 children battling cancer and blood disorders are featured each day between Dec. 1 and Dec. 12, 2015, in full-page ads in the Journal Sentinel and on a special website, http://www.jsonline.com/twelvedays.
Aaron Rodgers has been involved with the MACC Fund since 2010. His commitment has provided an extra level of "Hope" to children battling cancer and blood disorders. He is an MVP to the children and the MACC Fund helping to raise over $2 million in the last 6 years.
Rodgers noted "The MACC Fund has been around for nearly 40 years, long before I was born and it's going to carry on long after I'm gone. But right now, I have an opportunity to have an impact on it to help the children."
For more information about the Aaron Rodgers' 12 Days of Christmas campaign, visit http://www.jsonline.com/twelvedays.
About the MACC Fund
Since its inception in 1976, the MACC Fund has contributed more than $53 million for pediatric cancer and blood disorders research for diseases like aplastic anemia and sickle cell. MACC Fund supported research in Wisconsin benefits the treatment for children throughout the state, the nation and the world playing an important role in helping the overall cure rate for childhood cancer rise from 20% to 80% over the past 39 years. The MACC Fund supports research at the Medical College of Wisconsin in the MACC Fund Research Center, in the MACC Fund Center at Children's Hospital of Wisconsin, and in the University of Wisconsin's Carbone Cancer Center MACC Fund Childhood Cancer Research Wing. The MACC Fund believes that every child deserves a fighting chance. Learn more at http://www.maccfund.org.
About Kohl's
Kohl's (NYSE: KSS) is a leading specialty department store with 1,166 stores in 49 states. With a commitment to inspiring and empowering families to lead fulfilled lives, the company offers amazing national and exclusive brands, incredible savings and inspiring shopping experiences in-store, online at Kohls.com and via mobile devices. Committed to its communities, Kohl's has raised more than $274 million for children's initiatives nationwide through its Kohl's Cares® cause merchandise program, which operates under Kohl's Cares, LLC, a wholly-owned subsidiary of Kohl's Department Stores, Inc. For additional information about Kohl's philanthropic and environmental initiatives, visit http://www.Kohls.com/Cares. For a list of store locations and information, or for the added convenience of shopping online, visit http://www.Kohls.com.
Connect with Kohl's:
Facebook facebook.com/Kohls
Twitter twitter.com/Kohls
Google+ plus.google.com/+Kohls
Pinterest pinterest.com/Kohls
Instagram instagram.com/Kohls
YouTube youtube.com/Kohls
About the Milwaukee Journal Sentinel
Journal Sentinel Inc. publishes the flagship Milwaukee Journal Sentinel newspaper as well as a range of other print and electronic products, including JSOnline.com, primarily serving people and businesses in southeast Wisconsin. JSEverywhere offers a bundled subscription for both print and digital or digital-only subscribers with added applications for both mobile devices and tablets. Journal Sentinel is committed to providing news coverage that reflects the ever-changing world and fulfills the needs of readers and advertisers both in print and online.