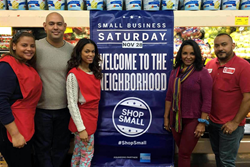 "Perth Amboy is always a superstar on Small Business Saturday," said Lynn Bunim of Women Impacting Public Policy
Perth Amboy, New Jersey (PRWEB) November 23, 2015
The City, its BID, Small Businesses and Local Organizations are Staging Outdoor Events on Second Street and Amboy Avenue on Sat., Nov. 28
The Historic City of Perth Amboy is hosting a gigantic Holiday Ribbon Cutting Ceremony in its main commercial district to launch this year's Small Business Saturday event on Saturday, November 28. By slicing the bright bow, the Honorable Wilda Diaz, Mayor of Perth Amboy, is "unwrapping" the holiday shopping season. And her many helpers are creating a festive holiday atmosphere to the City's downtown, which will continue from now through December.
Hundreds of residents and visitors, from students to seniors and everyone in between, can come to Smith Street at 11:00 AM to celebrate Perth Amboy as the destination for local shopping and dining. The sixth annual Small Business Saturday, which was created in 2010 by American Express, marks the start of holiday shopping for this City's many retail shops and businesses. On Nov. 28, shoppers are reminded to "Shop Small" by supporting their local merchants.
The City of Perth Amboy and the Business Development District(BID) are joining with local supermarkets, the downtown rehabilitation center, and one of the community's largest nonprofit organizations to stage two Small Business Saturday celebrations. At the upcoming Smith Street event, C-Town, Supremo and Tropical supermarkets are providing 100 coupons valued at $3 each and 50 gift cards worth $10 each. Also, the Arista Care Rehabilitation Center is donating a flat screen TV for a drawing that will be held during the ribbon cutting.
In addition to the Smith Street event, the Jewish Renaissance Foundation is staging a "mirror image" Small Business Saturday celebration on the same day along Amboy Avenue, which is also an important and thriving shopping area in Perth Amboy, from 1 to 4 p.m.
For both Small Business Saturday events, there will only be a 3.5% sales tax at participating retail stores (as an Urban Enterprise Zone City, shoppers pay only 3.5% sales tax at participating retailers all year round).
In inviting the community to join the celebration, Mayor Wilda Diaz said, "Our goal is to encourage people from across New Jersey to visit our City this holiday season. Everyone will find a wide range of specialty stores, restaurants and many great retailers in our wonderful downtown business district. More importantly, folks who come to our Small Business Saturday celebration will see why Perth Amboy is a great place for shopping and dining now and throughout the year."
The City of Perth Amboy, the BID and all local merchants are recognized by American Express as one of 2015 Neighborhood Champions for this year's Small Business Saturday. The designation recognizes that the City is building excitement for shopping and dining locally during the holiday season.
After hearing about the City's plans for Nov. 28, Lynn Bunim, Membership and Special Programs Director of the National Organization of Women Impacting Public Policy, said, "Perth Amboy is always a superstar on Small Business Saturday."
Mayor Diaz and each of the City's leaders recognize the importance of supporting local small businesses, the jobs they help create, and the culture they instill in local communities. According to the U.S. Small Businesses Administration, as of 2014, small businesses nationwide accounted for 63% of new, private-sector jobs created and represented 99.7% of all employer firms.
Yolanda Flores, owner of American Pride Bait & Tackle, is looking forward to Small Business Saturday. Ms. Flores said, "Perth Amboy is a diamond in the rough. The City works very hard to move us forward to reach our potential. We need to work together and support our City programs. It's more than just saying yes, it's about participating!"
For more details about getting involved in Perth Amboy's Small Business Saturday celebration on November 28, business owners can contact the City's BID at 732.442.6421 or visit the BID online at Facebook, Instagram, Twitter, or on A Greater Town.com.
About Small Business Saturday
November 28th marks the sixth annual Small Business Saturday, a day to support the local businesses that create jobs, boost the economy and preserve neighborhoods around the country. Small Business Saturday was created in 2010 in response to small business owners' most pressing need: more customers.
About Perth Amboy
The Historic City of Perth Amboy, which was incorporated in 1718 and a second time in 1784, is a thriving community at the mouth of the Raritan River in Middlesex County, N.J. The Honorable Mayor Wilda Diaz, who was first elected in 2008, began her second, four-year term in 2012. Mayor Diaz has demonstrated her leadership and vision in strengthening the community's Downtown commercial area by attracting and assisting small businesses and welcoming major corporations. Mayor Diaz is assisted in her mission by an experienced and responsible City Council. The Perth Amboy Business Improvement District and Urban Enterprise Zone are also driving forces in enhancing the City's economic vitality and long-term growth.