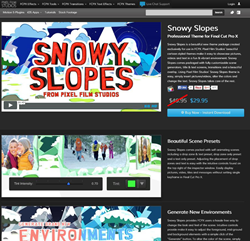 Snowy Slopes provides FCPX users a hassle free way to change the look and feel of the scene.
Aliso Viejo, CA (PRWEB) January 22, 2016
Snowy Slopes is a beautiful new theme package created exclusively for use in FCPX. Pixel Film Studios' beautiful cartoon styled themes make it easy to showcase pictures, videos and text in a fun & vibrant environment. Snowy Slopes comes packaged with fully customizable scene generators, title & text screens, transitions and a beautiful overlay. Using Pixel Film Studios' Snowy Slopes theme is easy, simply insert pictures/videos, alter the colors and change the text.
Easily create any 2-point camera movement using the intuitive start and end orientation controls found in Final Cut Pro X. Simply start by moving the play-head to the first frame of the generator preset, then set the starting position and angle. Then go to the last frame of the preset and set the end of position & rotation. With the provided speed slider, the duration of the camera movement can be easily adjusted.
Snowy Slopes' frame overlay provides a unique stylizing title layer for any scene, picture or video. Utilize Snowy Slopes' customizable overlay to add a decorative frame atop any visual media in any Final Cut Pro X production. Easily adjust the frame tint, scale and drop shadow to achieve a wide variety of looks.
Snowy Slopes' easily customizable background key allows FCPX users to display text or keyed Media in a unique and Interesting way. Snowy Slopes' adjustable animations make it the perfect backdrop to display messages or showcase people/characters. Easily customize everything from the colors of the clouds & sky to the scale and movement of the background elements.
Pixel Film Studios' cartoon theme packages come with a self-animating title and a set of thematic lower thirds. Utilize the elements to introduce a scene, setting or characters in any FCPX production. Snowy Slopes' titles are simple to use in Final Cut Pro X. Simply select a preset and drag it above media or scene presets in the timeline. Then, simply alter the text and adjust the customizable features to achieve the desired look and Snowy Slopes' titles will handle the rest.
"We intend to satisfy the needs of fans of FCPX around the world and get them what they need." Said Christina Austin, CEO of Pixel Film Studios.
Established in 2006, Aliso Viejo, California-based Pixel Film Studios is an innovative developer of visual effects tools for the post-production and broadcast community. Their products are integrated with popular non-linear editing and compositing products from Apple FCPX. Apple, the Apple logo, Mac OS X, and Macintosh are registered trademarks of Apple Inc. in the U.S. and/or other countries. All other trademarks and trade names are the property of their respective owners.