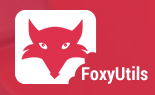 Reykjavik, Iceland (PRWEB) November 20, 2015
FoxyUtils has expanded their service offerings with an impressive new suite of PDF utilities. New conversion services allow for: PDF to Word, Word to PDF, PDF to Excel, PDF to JPG, JPG to PDF, EPUB to PDF and PDF to EPUB conversion. In addition, PDF manipulation has been enhanced with Compress PDF.
"There's a reason we are known as the 'Swiss Army Knife' for PDFs," says company spokesman Alfred Hall. "Our ever-growing list of utilities allows busy people to conveniently work with PDF files without the hassle and wasted time of looking all over the Web for a paid program to simply unlock or convert a file."
The new launch expands on the core utilities offered by the company: Merge PDF, Split PDF, Unlock PDF and Protect PDF.
FoxyUtils was spun out of Merge PDF a service allowing users to quickly combine multiple PDFs into a single document. The praise and demand for this free service was so great, the creators of Merge PDF decided to step up to the plate and continue to give Web users what they want and need – the ability to easily work with PDF documents online.
The PDF challenges identified and solved by FoxyUtils address the cost, portability and ability to access and maintain PDFs by creating a slick, user-friendly interface with step-by-step instructions and drag and drop fields.
"Our services are free," points out Alfred, "because it should not cost the user anything to simply access and work with a PDF file. When you have a barrier, such as working from home and not having the administrative login you need to unlock an important document, FoxyUtils is the solution. When you need to send several PDFs to a client but don't want to inundate them with multiple files, FoxyUtils lets you merge them. We are the ultimate solution for every PDF need." Donations help the company with operating costs.
FoxyUtils points out that just because their services are free and accessible doesn't mean they skimp on data security.
"This is an area we take very, very seriously," says Alfred. "All files that are uploaded using our programs are removed from our system within a short timeframe and all data transfers are through SSL (https). We understand that the documents you work with have sensitive, personal, confidential information and we protect those documents in every step of our process."
The company's popularity is growing at a rapid pace as users, such as Mohamed rave, "Your service has been of immense help for me and those who are doing a similar type of work. FoxyUtils is the best ever software for merging/splitting PDF's. I've tried many, some of them paid ones, but none surpass your service. Excellent service. Thanks."
Another user, Jeff, is happy to say, "Guys, this utility saved me!! Worked really well with a dozen PDFs converted into one. Well done!!!"
To harness the power of PDF utilities and check out the new suite of services, visit FoxyUtils.com. Also, stay tuned to the blog to know when new and exciting products and are launched.
About Us
FoxyUtils, the evolution of MergePDF, provides a free range of PDF conversion, compression and manipulation utilities to help Web users quickly, easily and securely work with PDF documents. A user-friendly interface allows users of all skill levels to work with the utilities.
Source: FoxyUtils