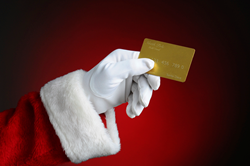 Frisco, TX (PRWEB) November 19, 2015
Thanksgiving is just around the corner, and with it comes Black Friday, Small Business Saturday, and Cyber Monday. Since the temptation to shop hard is high during this time, MSI Credit Solutions is reminding consumers to stop and take a moment to plan their holiday shopping in order to avoid unnecessary expenditures.
MSI Credit Solutions is offering the following tips for consumers:

Plan in advance before going out to shop. Avoid going out on a whim, maxing out a credit card, or even worse, end up spending money set aside to pay monthly bills. Gift-giving is good, but not if it's at the expense of finances.
Spouses and children should, naturally, be at the top of most holiday shopping lists. It can also be very difficult to find the funds for everyone in a growing family. If a simple gift card or something similar will suffice for someone, there's no need to purchase a large, more expensive gift. And above all, remember that the holidays are a season to spend time with loved ones, not a game of one-upping.
Avoid Negative Effects on Credit
In addition to ensuring cards aren't maxed out, avoid applying for store charge cards to save on purchases. Every time a credit report is ran, and inquiry will be placed on the report. New credit and inquiries into a credit report affect 10 percent of a credit score and can also drop it greatly. Also, be sure to avoid taking on any sort of installment loans or financing whenever possible. New debt and amounts owed can affect a credit score by as much as 30 percent.
Find Alternatives and Get Creative
Handmade gifts always add a personal touch. Pinterest has many ideas for thoughtful, personalized gifts that are inexpensive as well. Secret Santas, or another method that's similar, may serve as a more cost-effective way of holiday gift-gifting.
About the company:
MSI Credit Solutions is committed to helping the local community. The company actively engages in a number of community events and charity efforts throughout the year. Some of these include hosting a canned food drive for the North Texas Food Bank and the annual holiday toy drive.
MSI Credit Solutions aims to help both community members and their customers plan for a better future. They offer credit repair and restoration services to help their clients increase their credit scores. Established in 2006, MSI is one of the leading credit repair companies in the industry.
MSI Credit Solutions is located at 12790 Merit Dr. Suite 614, Dallas, TX 75251. To learn more about MSI Credit Solutions, visit their website at http://www.msicreditdfw.com/.