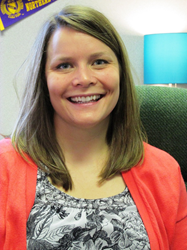 Parents should never give a second thought about reaching out for help.
Des Moines, IA (PRWEB) November 23, 2015
The holidays can be one of the best times of the years for families and children, but there's a good chance you have experienced some type of holiday stress. Whether it is the demands of exchanging gifts, making seasonal food or getting together with friends and family, the holidays can be challenging for both kids and adults. If you or your child experiences anxiety or other mental health conditions, the holidays can sometimes be less than jolly.
Traumatic experiences, such as a recent loss or grief around the holidays, often act as a trigger for mental health conditions. Orchard Place/ Child Guidance Center Functional Family Therapy Program Supervisor Rose Klingbeil says caregivers should be aware of this and be on the lookout for signs that kids are struggling with stress relating to the holidays.
Klingbeil has 7 tips to help parents and children navigate holiday stress:
1. Parents need to manage their own stress and manage how they are dealing with the holidays. Parents often the 'emotional barometer' of the family. If parents are stressing out, chances are their children are too.
2. Stick to the same routine and rules as much as possible. Kids thrive on routine and consistency. When children are out of their routine or experiencing new social situations, boundary lines of behavior sometimes get blurry.
3. Make a plan and talk about the plan for the holidays. Letting children know what to expect can help reduce anxiety.
4. Focus on doing one thing at a time. Multitasking can become overwhelming. It's not a good practice when things are already more stressful and overwhelming. Some children may act up to signal that they want attention they are not receiving.
5. Plan time for the family and don't overlook downtime. Children who get overstimulated may require more downtime during the holiday season.
6. Encourage everyone to talk about how they are feeling and what they are thinking about. Sometimes parents and children are dealing with the same emotions. A loss of a family member or traumatic experience can have an effect on family emotions.
7. Continue to see a mental health provider if you have been seeing one throughout the year. The busyness of the season for those seeking and providing services can make this more difficult, but try to make this a priority especially if you know this is a particularly stressful time for your family.
Klingbeil says parents should never give a second thought about reaching out for help. The holiday can be one of the best times of the year for families and children. While people with mental health issues may feel the crunch of holiday stress more than others, there are many ways such as the tips above to help cope with this busy season. Resources such as those offered by the Orchard Place Child Guidance Center are also available to help.
About Orchard Place:
Orchard Place works with children, youth and their families who experience mental health and behavioral challenges. By intervening early with appropriate care, we build stronger futures for our young clients. In 2015, Orchard Place provided care to 10,611 Iowa children and youth.