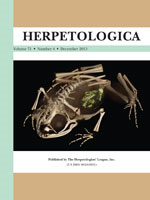 During our sampling, we noticed that certain color morphs seemed to have slightly different calls
Lawrence, KS (PRWEB) November 20, 2015
Herpetologica – A frog's advertisement call lets a potential mate know all the pertinent details—location, quality, and species identity—and plays an important role in reproduction. Call differences within the same species might prevent proper recognition of conspecific males, however, and result in reproductive isolation.
Previous studies have found that speciation in frogs appears to have been driven by call divergence. Research in the current issue of the journal Herpetologica examines call variation within a single frog species. By examining call variation within populations of a single species in this study, researchers sought to understand how reproductive barriers might evolve.
A species of dart-poison frog, Ranitomeya imitator, has developed distinct color patterns within different populations that mimic congeneric species. Four of these patterns occur in north-central Peru—striped, banded, varadero, and spotted. This range of morphotypes represents a rare example of Mullerian mimicry in frogs, and could indicate an early stage of speciation.
Biologists analyzed the advertisement calls of over 130 individual R. imitator from 20 locations in Peru. The sampling of calls encompassed much of the known biogeography of this species, and spanned across of transition zones that delineate the four different morphotypes of R. imitator.
"During our sampling, we noticed that certain color morphs seemed to have slightly different calls," said Evan Twomey of the Department of Biology at East Carolina University, an author of this study. "We investigated whether call variation tracks 'mimicry' variation, that is, whether different color morphs also show differences in calls."
The researchers detected variation in the calls among the four color morphs. The effects of isolation through geographic distance were considered, but not found to be a factor in the variation. Future studies will focus on testing whether the call differences or call variations, or both, are responsible for the observed reproductive isolation.
Full text of the article "Intraspecific Call Variation in the Mimic Poison Frog Ranitomeya imitator," Herpetologica, Vol. 71, No. 4, 2015, is now available.
###
About Herpetologica
Herpetologica is a quarterly journal of The Herpetologists' League, containing original research articles on the biology of amphibians and reptiles. The journal serves herpetologists, biologists, ecologists, conservationists, researchers, and others interested in furthering knowledge of the biology of amphibians and reptiles. To learn more about the The Herpetologists' League, please visit: http://www.herpetologistsleague.org/en/index.php.