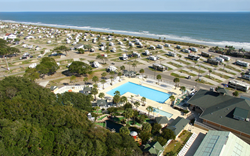 The holiday season is one of the best times to visit the Myrtle Beach area. The weather is in the 60s, so visitors can still enjoy the outdoors, and there is lots of holiday entertainment, sure to put everyone in a festive spirit.
Myrtle Beach, South Carolina (PRWEB) November 20, 2015
With fuel costs on the decline, and RV ownership on the rise, more families are discovering the fun of RVing. It's affordable, brings families closer together, and it's virtually a home away from home. Winter is almost here, so it's the perfect time to escape the cold and take the family on a holiday getaway. Time out of the office and with the family is precious, so the location needs to be family-friendly with lots of activities; near holiday shopping and entertainment; and have a warmer climate so that the outdoors can be enjoyed. Ocean Lakes Family Campground in Myrtle Beach, S.C., has all that and more.
This family-owned campground currently holds a perfect 10/10*/10 rating from the Good Sam RV Travel Guide & Campground Directory for its overall operation, recreational offerings, services and appearance — all very important when choosing a campground.
Ocean Lakes is the largest campground on the East Coast and one of the largest in the United States. It is set on 310 oceanfront acres and has nearly one mile of beachfront. It offers 3,447 sites — 893 of which are large and pull-through to accommodate larger RVs, and it offers oceanfront, lakeside and shaded sites.
Its numerous amenities include a two-acre recreation complex with an indoor pool and mini-golf; an on-site restaurant; grocery store and laundromats; as well as a large RV supply center. Guests can also enjoy a number of fun activities like water aerobics, crafts and bingo. Brave souls can even participate in the annual Polar Bear Plunge on December 31.
While the campground offers plenty of things to do in a relaxing environment, it's also close to a number of attractions, restaurants and shopping. Just a few minutes away, there is a variety of entertainment venues, guaranteed to put everyone in the holiday spirit.
The Myrtle Beach area is known for its holiday shows, and visitors come back year after year to see them. In its 30th year, the Carolina Opry presents its popular "Christmas Show of the South," which features music, comedy and dance. Those looking for fun, feast and adventure will want to check out "Christmas at Pirates Voyage." Other popular venues include Legends In Concert, famous for their celebrity tribute artists; and for a limited time, visitors can enjoy the Palace Theatre's "Christmas Wonderland," with its high kicking chorus girls, music and more. This is just a sampling of some of the holiday entertainment offered in Myrtle Beach.
One of the most popular holiday events in Myrtle Beach is the tree lighting celebration, on December 5, at South Carolina's largest festival entertainment complex, Broadway at the Beach. It's a day full of free family entertainment with a parade, children's activities, musical entertainment, fireworks and the lighting of Broadway's majestic 52 foot tree.
So whether the family wants to get away from it all, or take in all of the holiday festivities, Ocean Lakes Family Campground is the perfect holiday headquarters.
For more information about Ocean Lakes, visit http://www.oceanlakes.com, follow on Twitter or "like" the campground on Facebook. For more information about Broadway at the Beach, visit http://www.BroadwayattheBeach.com, follow the complex on Twitter or "like" it on Facebook.