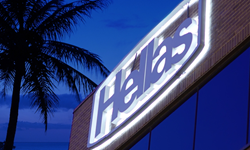 As demand increases, Hellas sees this as a great move that will allow for further growth moving forward.
Austin, TX (PRWEB) November 20, 2015
Hellas Construction continues to increase its operations by opening a new satellite office in West Boca Raton, Florida this month. This is the result of locking up the most successful year for the Austin-based sports construction company and overseeing the high demand in the Southeastern region.
"We're excited to announce our new office location in Florida," said Reed J. Seaton, Hellas Construction's President & CEO. "As demand increases, Hellas sees this as a great move that will allow for further growth moving forward."
Hellas specializes in the general construction of sports facilities and provides innovative manufacturing, base construction, turf, track, and tennis court installation, as well as superior service and maintenance. With more than 250 projects completed nationwide during 2015, the company has had the most successful year in its history, a feat the company has achieved every year since its inception. Hellas attributes the growth to being the only sports construction company in the industry with control over its supply chain, increasing its presence around the country, and continuing to innovate with new products and technology.
This year, Hellas has elevated its focus on design-build projects, a delivery method that allows clients to maximize their investment by employing it as the single contractor from start to finish. The company showcased its new Matrix® Turf with Helix technology earlier this year, a feature that has set the standard for the next generation of artificial grass. In October, its exclusive epiQ TRACKS® V300 received IAAF certification, becoming the fourth running track in the product line to do so.
"Hellas continues to increase its presence nationwide," said Business Development Manager Paul Tabor, who will be the main point of contact at the new office. "The move is a clear indication of our success and we are excited to kick off the next year in our new Florida location. This is an opportunity for us to bring the same level of quality to future clients and to further strengthen our business relationships with current clients in the area."
The company recently completed several projects in Florida, including two synthetic turf fields in Winter Park and Orlando that feature the exclusive all-organic Geo Plus infill, and is scheduled to begin the second project for the City of Weston in early 2016.
---
About Hellas Construction
Headquartered in Austin, Texas, Hellas Construction is a nationwide contractor with a strong reputation for delivering premium-quality sports construction projects across the United States. Hellas has the ability to custom-manufacture and install its own synthetic surfaces for field sports, running tracks, and tennis courts, by controlling all related operations. For more information, visit hellasconstruction.com, matrix-turf.com, or follow them on Twitter and Facebook.