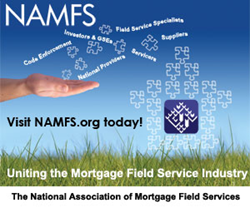 In the coming year technology, compliance and vendor management will continue to be top priorities for the field services industry
Stow, OH (PRWEB) November 20, 2015
Members of the National Association of Mortgage Field Services (NAMFS) board of directors and its executive director attended the annual National Property and Preservation Conference in Washington D.C. and have insight on topics discussed at the event. The conference, attended by loan servicers, field services providers, representation from investor/insurers and other members of the financial services industry, focuses on current and future trends affecting property preservation providers.
The following is a round-up of conference takeaways regarding the current and future state of the industry and summaries that provide insight into changes within the compliance and regulatory environment that affect the default mortgage servicing industry.
State of the Industry
As field services providers navigate regulatory and compliance guidelines, they continue to invest in strategies to better manage vendor networks. The industry must work to overcome negative or misleading perceptions concerning the quality of work performed at default properties. Additionally, the industry continues to focus on diversity initiatives that allow for a wide variety of perspectives and solutions to managing default property.
Compliance and Regulatory Guidelines
There has been much discussion about the new Fannie Mae (FNMA) and Freddie Mac (FHLMC) inspection forms. Only Freddie Mac was represented at the session on compliance where attendees asked for clarification on the additions to inspection requirements. The new form is to be used as a guide that helps the agencies gain more detailed information from property inspections. Discussion continues as to which questions on the form will be included in compliance audits. In addition, the agencies may have different effective dates in which the form is required for inspections of FNMA and FHLMC properties.
New Property Preservation Guidelines
New guidelines are likely to include increasing the maximum allowable for preservation work from the current $2,500 limit. Service providers can expect additions to the list of pre-approved allowable services. It was announced that the Department of Housing and Development (HUD) awarded Yardi a 5-year contract and that Yardi may provide enhancements to the reporting functionality of P260.
The Future of the Property Preservation Industry
In the coming year technology, compliance and vendor management will continue to be top priorities for the field services industry. Property preservation providers expect to see an increase in the use of technology to address vendor network management issues including the use of robust mobile applications and video to collect and report field services results in near real-time.
Learn more about the benefits of NAMFS membership by visiting http://www.namfs.org.