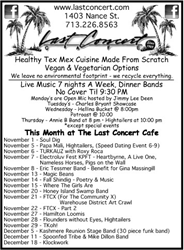 Houston, TX (PRWEB) November 19, 2015
Last Concert Café features live music seven nights a week, so regardless of people's schedules, there's bound to be a day when they can join in on the fun. Pack a night with Tex-Mex made from scratch and live music each and every night.
Every night of the week, live dinner bands will be featured and no cover charge is required until 9:30 p.m. Each Monday is an Open Mic Night hosted by Jimmy Lee Dean; Tuesdays feature Charles Bryant Showcase; Wednesdays are Helina Bucket at 8 p.m. and a pot roast at 10 p.m.; and Thursday's host is the Annie B Band at 8 p.m., Hightailers at 10 p.m. (unless a special event is scheduled).
This month's special events at Last Concert Café are as follows:
Nov. 20: Honey island Swamp Band
Nov. 21: FTCX (For The Community X), Warehouse District Art Crawl
Nov. 22: FTCX part 2
Nov. 27: Hamilton Loomis
Nov. 28: Flounders without Eyes, Hightailers
Nov. 29: TKoh!
Carrying into December, Last Concert Café has taken the lead with some special events already planned. Kick off the holiday month with the following performances:
Dec. 5: Kashmere Reunion Stage Band (30-piece funk band)
Dec. 11: Spoonfed Tribe & Mike Dillon Band
Dec. 18: Klockwork
To learn more about the upcoming special events and regularly scheduled weeknight entertainment, stop by Last Concert Café or call 713-226-8563.
About the Company:
The Last Concert Cafe is one of Houston's oldest (and definitely friendliest) live entertainment venues. Located in the historic warehouse district of downtown Houston, they have been serving up great music and delicious Tex-Mex since 1949. Their food is made from scratch with fresh ingredients and local recipes, and the atmosphere is always fun and exciting with brightly-painted dining sets and colorful decorations. Local and national musicians and performers entertain crowds nightly. Whether guests are looking to enjoy great food or live music and entertainment, the Last Concert Cafe is the place to be.