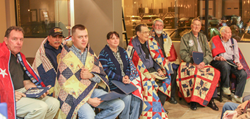 We welcome any opportunity to join an effort to honor our veterans in such a special way.
Omaha, NE (PRWEB) November 20, 2015
AccuQuilt hosted a group of veterans and members of the Quilts of Valor Foundation, Daughters of the American Revolution (DAR), Girl Scouts of America, and many others on Veteran's Day as they all paid tribute to those who served.
Because this year marks the 50th anniversary of the Vietnam War, five veterans who served in Vietnam received a special certificate and lapel pens commemorating the war from the Department of Defense (DOD). DAR is part of the DOD's Commemorative Partner Program; therefore, Mary Hanke from DAR was there to present these items to each veteran.
One female veteran was also honored at the event. Women represent more than 14 percent of active duty military personnel and have served in a variety of roles since the American Revolutionary War.
Additionally, the Girl Scouts were on hand to present a special quilt they made for veteran Clinton Huey who has served multiple tours in Iraq. Meeting in the AccuQuilt Dream Studio for weeks, each Scout made one block for the quilt top using AccuQuilt's fabric cutters and dies. This Girl Scout troop is part of the Under Our Wings (UOW) program, which not only teaches people how to sew and make quilts for Quilts of Valor, but it also helps to encourage a love of quilting and service.
While waiting for the presentation to begin, the attendees were able to view the Quilts of Valor exhibit in the AccuQuilt Gallery as well as see their Dream Studio. They were also able to mingle with AccuQuilt Chief Energizing Officer Steve Nabity, President Greg Gaggini, and fellow veterans.
"We welcome any opportunity to join an effort to honor our veterans in such a special way," said AccuQuilt Chief Energizing Officer Steve Nabity.
After the presentation, all of the veterans were presented with their own special Quilts of Valor. The Girl Scouts, with assistance from the foundation members, helped to cover each veteran with their quilt and gave them a handshake while thanking them for their service. The veterans were then awarded a certificate in recognition for their service.
Other veterans honored include, World War II veterans Bob Reisser and Robert Rees, and Vietnam veterans Bill Caster, Charles Viola, Curtis Morrell, Gary Fitch, and Wayne Grulke. Additionally, Kimberly Hinnenkamp and Daniel Paul were among the honorees.
The Quilts of Valor Foundation was founded by Catherine Roberts, a retiree from the healthcare field, in 2003 when her oldest son was deployed to Iraq. Eventually a quilting partnership ensued between piecers and quilters and quilts were being awarded to wounded warriors thanks to the Walter Reed National Military Medical Center.
The mission of the Quilts of Valor Foundation is to cover all military service members and veterans who have been touched by war with comforting and healing Quilts of Valor. Many quilters volunteer their time every year to serve, honor, and comfort our veterans with something they will cherish forever. According to the Quilts of Valor Foundation's website, 128,694 quilts have been awarded to service men and women thus far.
If you would like to volunteer or donate to the Quilts of Valor Foundation, see their website for more information.
About AccuQuilt—Better Cuts Make Better Quilts
Headquartered in Omaha, Neb., AccuQuilt offers quilters, fabric crafters and retailers a premiere line of fabric cutters, dies, quilting patterns and other quilt and fabric cutting solutions that help quilters quickly and accurately cut shapes for quilting and fabric crafts. AccuQuilt also offers quilters a wide variety of rich educational resources to enhance their quilting experiences. Cutting with AccuQuilt cutters is a natural evolution of fabric cutting methods. "First scissors…then rotary…finally…AccuQuilt" for fast, easy, accurate fabric cutting. For more information, visit accuquilt.com or call 888.258.7913.
###