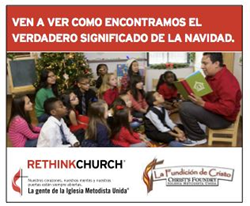 Nashville, Tennessee (PRWEB) November 24, 2015
"Church is more than a place to go at Christmas; church can happen anywhere, at any time." The United Methodist Church's new national outreach and advertising campaign focuses on the true meaning of Christmas: lending a hand to a neighbor in need, encouraging joy in the lives of others, and giving the gifts of time and care.
"During the Christmas season, people often reflect on their spirituality. The United Methodist Church is ready to welcome our neighbors as they search for a community of faith and hope. Our churches are a place to ask questions and engage the spiritual journey," said Dan Krause, chief executive of the denomination's communications agency.
Television, billboard, radio and digital advertisements will be in place throughout the Christmas season. A social media component via Facebook, Twitter, Instagram and Pinterest will focus on themes from Sent, a book encouraging Christians to serve those in need.
A substantial percentage of the total advertising budget was utilized for 35 grants to support the outreach efforts of multi-ethnic local churches, with ads in Spanish, Portuguese, and Korean. Leaders in these churches have also undergone communications training to prepare for an increased use of social media and branding to support the advertising effort.
In addition to the advertising, United Methodist Communications has developed comprehensive outreach resources for local churches, many of them free, which align with the national message. From postcards to worship service materials, the inclusive campaign tools are available in English and Spanish, and are designed to welcome new people to participate in church activities.
The national campaign is part of the Rethink Church ministry of The United Methodist Church, a movement to encourage local church congregations to look outside of their walls, identifying needs in the community and then rising to meet them.
###
About Rethink Church
RETHINK CHURCH is a ministry of United Methodist Communications that encourages congregations to take action outside the church walls by engaging in opportunities that meet critical needs – from literacy programs to feeding the poor, both locally and across the world. At rethinkchurch.org, visitors may interact, learn more about the church, and search for involvement opportunities.