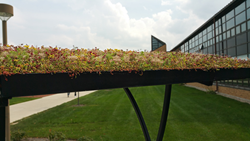 I found that students, as well as the rest of the university community, were interested in the green roof process and the many benefits that come with such a roof
BOWLING GREEN, Ohio (PRWEB) November 23, 2015
Bowling Green State University's Office of Campus Sustainability has used a $50,000 grant from the Ohio Environmental Protection Agency's Environmental Education Fund (OEEF) to purchase bicycle shelters featuring LiveRoof brand living roofs. These shelters add more green space to the increasingly sustainable campus, where the Carillion Dining Center was also topped with a sustainable living roof earlier this summer.
Two bicycle shelters, located outside the Student Recreation Center and the Wolfe Center for the Arts, each provide 18-20 covered locations for students and staff to park bikes. The BGSU bicycle shelter roofs feature sedums and other succulent plants that help address two of the EPA's priorities: managing stormwater runoff and reducing emissions.
Green roofs provide natural function and beauty while offering aesthetic, environmental and social benefits. The benefits of vegetative roofs include the reduction of urban heat islands, extend the life of the roof and provide a habitat for pollinating insects. Financial benefits can also be achieved from a vegetative roof including: extension of roof life, energy conservation, enhanced public relations, and conservation of municipal septic systems.
"We have several green roof projects on campus. I found that students, as well as the rest of the university community, were interested in the green roof process and the many benefits that come with such a roof," said Dr. Nicholas Hennessy, Sustainability Coordinator. "I also have a strong interest in the educational opportunities provided by such installations. We have been able to use our projects as educational 'labs' for some of the environmental studies classes as well, so there is a lot of learning going on."
Bowling Green students voluntarily pool funds into the "Student Green Initiatives Fund" to support campus-wide sustainability projects such as the bike racks and dining hall projects. The University's Student Green Initiatives Fund provided the percentage of matching dollars required by the OEEF grant. BGSU and The Ohio State University were the only university recipients of grants for the structures.
The OEEF was created by the General Assembly in 1990 to enhance Ohio citizens' awareness and understanding of environmental issues. It is administered by the Director of the Ohio Environmental Protection Agency (Ohio EPA) and provides approximately $1 million annually in grants to support environmental education efforts within the state of Ohio.
Darren Mayer of landscape architecture firm MKSK designed the bicycle racks for BGSU. Sustainable Green Solutions of West Chester, Ohio provided green roof technical and logistical support to the design and construction team.
"It's a privilege for to work with BGSU's Campus Sustainability office and support their goals for creating a sustainable, environmentally-responsive campus community," said Dan Cartell, principal, Sustainable Green Solutions, Inc. "The students take an active role by creating sustainable strategies, raising funds and managing their lifestyle choices. It's exciting to me to see this movement growing on such a large scale."
Photographers/Videographers Welcome
Please contact: Nick Hennessy, 419-372-9949, nickjh(at)bgsu.edu
About LiveRoof® Global, LLC
LiveRoof Global, LLC (http://www.liveroof.com) is the horticultural science company that developed the LiveRoof® Hybrid System, whose natural function and natural beauty offer the highest level of green roof performance at the lowest level acquisition-installation-maturation-maintenance costs. Combining the best elements of proven green roof technologies, LiveRoof establishes a seamless vegetative surface rooted in a continuous layer of soil. This design maximizes environmental benefits, energy savings and rooftop aesthetics. Regional growers in its global network adapt LiveRoof plants for local conditions and customize plant selection for every project. The proof is on the roof showcased in LiveRoof projects that stand out as signature elements on commercial, public, university and school buildings throughout the globe.
Media Contact:
Amber Poncé, GRP
Business Development Manager
LiveRoof Global, LLC
616.935.1964
About Sustainable Green Solutions, inc.
Sustainable Green Solutions, Inc. provides sales and technical support for green roofs and living walls to customers in Ohio, Pennsylvania, New York, and West Virginia. Since 2007, Sustainable Green Solutions has supported design and construction teams on nearly a hundred green roof projects utilizing the LiveRoof system.
Sustainable Green Solutions, Inc.
Dan Cartell
Principal
216.408.9611
dannycartell(at)hotmail.com
About Bowling Green State University
Bowling Green State University provides experiences that enhance lives. Students are prepared for lifelong career growth, lives of engaged citizenship and leadership in a global society. U.S. News and World Report names BGSU as one of the top public universities nationwide with a strong commitment to first-year programs that lead to success. Within our transformative learning community, we build a welcoming, safe and diverse environment where the creative ideas and achievements of all can benefit others throughout Ohio, the nation and the world. http://www.bgsu.edu
The Office of Campus Sustainability at BGSU has been operating within Campus Operations to fulfill the three main goals of the Sustainability Strategy:

Reduction of Emissions through the climate action plan
Waste reduction and resource conservation through recycling and re-use efforts
Education, Awareness, and Outreach through student involvement and programming.
http://www.bgsu.edu/campus-sustainability.html
Media Contact:
Dr. Nicholas Hennessy
Sustainability Coordinator
Office of Campus Sustainability
419-372-9949
nickjh(at)bgsu.edu
greenbg(at)bgsu.edu