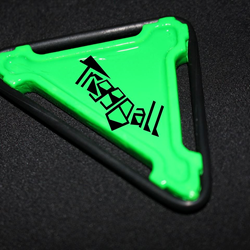 Martinsburg, WV (PRWEB) December 02, 2015
The adventure started in 1994: Kirby Lewis, a designer, was playing paper football, with a folded triangular-shape. Liking the game, he knew it could be better. He began to tinker with designs, creating and developing a new game. Excited about his design ideas, he still did what artists often do, he lost interest. Fast forward to 2012; when Kirby was diagnosed with breast cancer, a rarity in men. While preparing for a mastectomy in May 2012, doctors discovered he needed open heart surgery. In September 2012, Kirby had open-heart surgery. In a period of 3 months, Kirby had undergone (2) lifesaving surgeries. Kirby gladly proclaims, "Cancer, saved my life! Had I not needed the mastectomy, the doctors would've never discovered the heart issues. I would've died."
While sharing his story with a family friend, Enzo Colandrea, the conversation led to seizing opportunities in life. "Carpe diem," Kirby advised. Just a few moments later Kirby revealed a missed opportunity from 1994: TroggBall. Briefly reflecting on that "lost opportunity," Enzo persuaded, "TroggBall is a great game! You should do it," he encouraged. Kirby realized Enzo was right; TroggBall was an idea that needed to be pursued. He also knew he needed a young mind to help make it work, and he knew exactly whom that would be. Enzo became instrumental in perfecting the original design and implementing critical elements to the final product.
Thus, through a series of events, two friends became entrepreneurs, while an odd twist of fate and their love of inventing brought them together to fight cancer and make a difference at the same time. Ever since they became business partners, they have worked together almost daily on TroggBall.
TroggBall is a new but recognizable game from many people's past; however, it is not limited to the tabletop game from our youth, or the one that many high school kids "still" play in study hall. Though it is simple, fun, and easy; TroggBall offers more exciting features. Think: paper football on steroids.
TroggBall is comprised of only two components; a hard interior and a pliable exterior body. When combined these elements work as one: to enhance speed, acceleration, and accuracy. With a little practice, TroggBall can reach distances of 20 feet accurately, or can easily glide softly into positions just inches away from its intended goal.
Enzo stated "We are finally pursuing an important step" as TroggBall is currently in a Patent Pending status with the United States Patent & Trademark Office. With that in progress, TroggBall is in the "Capital Raising" mode. Kirby & Enzo need to purchase a CNC mold, which will allow them to enter into the production phase. "After that," Enzo stated, "we can finally start distribution, and then concentrate solely on sales."
Utilizing a 3-D printed prototype, promoting, and pre-selling has allowed them to approach a number of schools which are interested in their product as a fundraising opportunity. Kirby disclosed that "Several pro-teams are looking at TroggBall for 'giveaways' on fan-appreciation days." To this same notion a number of retailers, convenience stores, and a popular restaurant chain have also expressed interest. Kirby & Enzo are also hoping to get TroggBall as product placement merchandise on T.V. "I easily see Sheldon & friends playing TroggBall," smiles Kirby, referencing the popular T.V. show "Big Bang Theory."
TroggBall inspires wholesome family games, and compels creative minds to craft their own. Many popular games played with TroggBall are similar to corn-hole, stacked cups, and shuffleboard, to name a few. However, when innovation emerges, these games take second place to other games, emphasizing TroggBall's tagline, "The Ultimate Game of Imagination."
Kirby and Enzo are often asked "Was it fate or divine intervention?" "It is whatever you want to think," says Kirby. "I believe this whole series of events has been for a greater good: for me to have a mission in life and to be able to give back." The two unexpected partners plan on it. Enzo says, "As TroggBall grows, we plan to have TroggBall Tournaments, where 100% of the profits from the tournaments go directly to the American Cancer Association."
Kirby says "Making everyone aware: men can, and do, get breast cancer is one of my main missions in life! If we can have fun with TroggBall along the way; then by all means Trogg-On!" To find out more about TroggBall, go to Troggball.com, follow them on Twitter:@Troggball. Also you can visit our live kickstarter campaign.