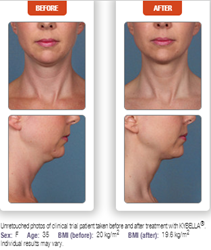 Kybella is the first FDA approved injectable used to treat the sagging skin also known as the double chin
Summit, New Jersey (PRWEB) November 23, 2015
Ethos Spa, Skin and Laser Center has officially added Kybella, to the medical spa's range of skin care and beauty services. Kybella is an injectable that is used to treat the double chin in adult patients.
"We always strive to deliver the best possible experience to our clients," stated Dr. Hardik Soni, MD, the company's medical director and owner. Kybella is the first FDA approved injectable used to treat the sagging skin also known as the double chin by melting the fat when injected and provides lasting results.
Kybella is made of deoxycholic acid, a naturally-occurring molecule in the body that aids in the breakdown and absorption of dietary fat. When Kybella is injected into the skin, it destroys fat cells under the chin, "melting" the fat and leaving the jawline more contoured. Patients see results in about 4-6 weeks and last for years. No touch-ups needed to maintain the defined look.
Kybella is injected into the fat beneath the patients chin. The fat cells are destroyed and cannot store or produce fat any longer. Kybella is only approved for under the chin at this point. It has been tested only in small areas but may be approved in the near future for the neck area.
To learn more about Kybella and how it can treat the double chin, visit http://www.MyEthosSpa.com.
About Ethos Spa, Skin and Laser Center: Ethos Spa, Skin and Laser Center is a practice comprised of physicians, physician assistants and skin care specialists. The practice is committed to providing the latest technology and skin care, and delivers services including laser hair removal, skin resurfacing, chemical peels and injectables, such as Botox.
Contact: Donna Albanese, Spa Director
Name: Ethos Spa, Skin and Laser Center
Phone: 908-273-5400
Email: [email protected]
Web Address: http://www.MyEthosSpa.com
Source: Hardik Soni, MD