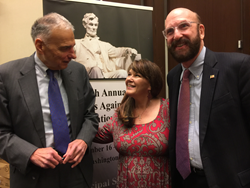 She [Cheryl] is a true catalyst for change, a boundless font of energy, and a true friend of America's taxpayers.
Washington, DC (PRWEB) November 20, 2015
Former GlaxoSmithKline (GSK) pharmaceutical manufacturing quality control expert Cheryl Eckard Meads was presented the "Lifetime Achievement Award" at the 15th Annual Taxpayers Against Fraud Education Fund (TAFEF) Conference for exposing rampant fraud at GSK's Cidra, Puerto Rico manufacturing plant and for her efforts to forge alliances between whistleblowers and attorneys.
"Cheryl brings people together to do great things," notes Patrick Burns of Taxpayers Against Fraud Education Fund (TAFEF).
"She is a true catalyst for change, a boundless font of energy, and a true friend of America's taxpayers.
She has organized whistleblowers to strengthen laws, and to educate government officials about the scope and nature of fraud against the government. Her efforts have changed the dynamic for whistleblowers."
In 2002, GSK sent Eckard to Cidra, Puerto Rico to oversee the remediation of its manufacturing plant after the site received a Warning Letter from the FDA. Eckard reported that the Cidra plant's water system was contaminated, that drugs were being made in unsterile conditions, and that drugs of different strengths were being mixed in the same bottle.
Cheryl urged GSK managers to take decisive action and made a full report to the GSK Compliance Department, but they took no action. Instead, she was fired in May of 2003.
In October of 2003, Cheryl reported the conditions at the plant to the FDA in San Juan, Puerto Rico, which executed search warrants. Her whistleblower law suit, filed in February 2004, included details about mixed-up products, super and subpotent diabetes drugs, an area of the factory used to make injectable drugs that was not sterile, air handling systems that misdirected the flow of product powders, a water system contaminated with microorganisms, and a host of other manufacturing and quality testing problems.
GSK agreed to pay $750 million in October of 2010 to settle Eckard's False Claims Act allegations that it knowingly sold contaminated drugs made at Cidra. This settlement was the first time the False Claims Act had been successfully used to hold a drug maker accountable for violations of manufacturing standards and, as part of the settlement, Eckard received a record-setting award.
After winning her case, Cheryl set out to "pay it forward." Guided by faith, and the biblical admonition to do good work, Cheryl and husband, Mike Meads, created a foundation which has made substantial donations to strengthen and improve services at Mariners Baptist Hospital in Florida.
Cheryl and Mike are also significant donors to the Tim Tebow Foundation, which funds health care and orphanages around the world, and they have provided educational aid and assistance to children in the Florida Keys, Uganda, the Dominican Republic, and Guyana.
Cheryl and Mike have also provided funding to support a whistleblower documentary project, as well as to Taxpayers Against Fraud Education Fund, Habitat for Humanity, and various health, art, and community-building charities in Florida, where they live.
"Making the world a better place is the job description that God gave us all," says Patrick Burns of TAFEF, "but few are more focused on that task than Cheryl, which is why she is the very first whistleblower to earn our Lifetime Achievement Award." Past recipients have all been long-practicing False Claims Act lawyers.