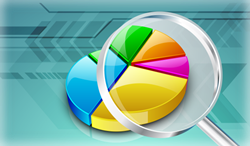 "HSM Surveyor provides a real-time, visual way to monitor the HSMs' level of performance, which assists our customers in capacity planning and saves them both time and money."
Eugene, OR (PRWEB) November 20, 2015
HSM Surveyor is an enterprise application that monitors the health and performance of an HSM estate.  It is designed to provide real-time and historical data necessary for HSM network analysis. A disruption or failure of an HSM can bring transaction processing to a halt and immediately impact productivity, SLAs and the bottom line. HSM Surveyor can help eliminate these costly disruptions and failures by providing enterprises the ability to proactively identify performance issues and detect which HSM or HSMs are non-responsive or failing before they become critical downtime events.
Because Prime Factors does not manufacture HSMs, they play an agnostic role in the hardware security module space.
HSM Surveyor is immediately available to monitor the activity of Thales eSecurity® payShield® 9000 HSMs, Thales eSecurity nShield®, SafeNet Luna SA®, SafeNet Luna EFT® and Atalla Ax160 NSP®. "HSM Surveyor was designed to easily incorporate additional vendors," says Prime Factors' President/CEO Patrick Riley. "We recognize the HSM and the use of security software products, such as Prime Factors' Bank Card Security Software (BCSS) and EncryptRIGHT, which provide a higher level of security in today's environment. "HSM Surveyor provides a real-time, visual way to monitor the HSMs' level of performance, which assists our customers in capacity planning and saves them both time and money."
Enterprises that rely on hardware security modules may view a recorded webinar demonstrating the capabilities of the latest release of HSM Surveyor.
For more information, see http://www.primefactors.com/hsm-surveyor. You may contact the company by email at info(at)primefactors(dot)com, or by phone at (888) 963-6358.
About Prime Factors, http://www.primefactors.com
Prime Factors has focused solely on the cryptographic needs of data centers for over thirty years. It creates solutions that make information security professionals' jobs easier while anticipating the market's next data security challenges. Prime Factors' encryption, tokenization, and key management products reflect those decades of experience, ensuring that their cryptographic integrity is fully complemented by simplified integration interfaces that reduce development cost and time-to-market. Customers can align a solution to their specific data protection goals, address regulatory compliance, and implement in less time than alternatives.