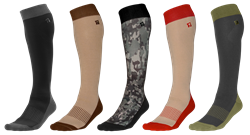 The most comfortable pair of socks you've ever worn.
Rockford, MI (PRWEB) November 20, 2015
Compression socks are all the rage with popularity at an all-time high and no shortage of brands flooding the market. With so many brands to choose from, what makes ACEL and their bold claims so different? "There has been a void in the market with true innovation, and maintaining a superior level of quality at a more affordable price," according to Cathy Sovde, Director of Marketing Communications with ACEL. "We're focusing on new technology that increases comfort while maintaining all the significant benefits compression socks provide. You can see that reflected in our current all season socks and even more so in our new thermal compression socks."
ACEL makes a bold claim with their new thermal compression socks: that they will be "the most comfortable pair of socks you've ever worn." That increased comfort with the added warmth, while maintaining its moisture wicking capabilities at 20-30mmHg's of compression is their claim to innovation within a market that has been somewhat stagnant in recent years. "One of the greatest features of our thermal compression socks is that they keep you warm while maintaining the benefits of compression. However if you get too warm during intense activities like snowboarding or skiing, the moisture wicking capabilities will keep your feet dry, so when your body cools back down your feet won't, like they would in other socks that held that moisture in," per Sovde.
Innovation while maintaining superior quality standards typically comes at higher cost, which is what also makes ACEL so much different than other compression sock brands on the market. Cathy says, "We don't feel that delivering an incredible product to our customers means that we're entitled to charge them top dollar for our products, in fact quite the opposite. It is our belief and the foundation of ACEL that we owe our customers a better product at a better price than the alternatives on the market.."
Another unique innovation with ACEL's new thermal compression socks is that in the coming weeks they will introduce their first digitally printed sock in a camo pattern, something that very few, if any, other compression sock brands have yet to accomplish. It will also guide a new direction for the ACEL brand as they look to stay on the cutting edge with the most innovative solutions backed by science and technology that provides a style and fit that no other brand can deliver.
###
ABOUT ACEL
ACEL high-performance MEDI-COMPRESSION activity socks are specifically designed for performance during and recovering after periods of intense activity. Although ACEL was developed as an activity sock, many have found the all-around comfort and support these socks provide also helps to support circulation and restore tired legs during prolonged periods of sitting or standing.
PRESS CONTACT
Cathy Sovde, Director of Marketing Communications
803-764-0983
csovde(at)acelcomfort.com
http://www.ACELComfort.com