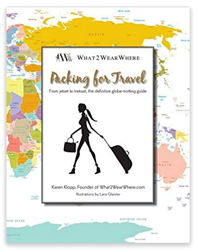 New York, NY (PRWEB) November 23, 2015
From the team at What2WearWhere comes the travel guide no woman should be without. Karen Klopp's new book follows the What2WearWhere motto: We take the guesswork out of dressing, the legwork out of shopping and the panic out of packing. The 131-page book features beautiful fashion illustrations by Laura Glaister as well as Klopp's expert advice on essential travel prep, wardrobe planning for almost every occasion, do's and dont's for on and off the plane and everything in between. "Packing for Travel" takes any style stress out of your next trip.
Making the packing phase of travel a breeze, the guide starts with packing techniques you won't believe you lived without, including tips for navigating airlines and airports and mix & match wardrobe essentials for any excursion. From weather essentials, business, resort, cruise, weddings of all kinds, and sport and adventure travels, the guide covers any jet set fashionista's packing needs. W2WW's best fashion advice, travel resources and customized packing lists are invaluable additions to this comprehensive packing guide. The final pages of the book are journal-style, giving the reader a chance to build her own packing lists for upcoming excursions and events.
About What2WearWhere: What2WearWhere (W2WW) is a digital retail boutique and blog that helps today's busy women dress for all of life's events, sports and travel. Site visitors can feel good about their purchases as W2WW donates 10% of its retail commissions to charities that help women, children and the environment. The site is a synthesis of the latest looks and trends compiled by KK and her stylish friends and editors who answer the eternal question, "What should I wear?!"
About Author, Karen Klopp: With a backdrop of Manhattan and a background as a writer, documentary film producer, life-long conservationist, traveler, board member for various organizations, chair of countless events and wife and mother of three, Karen has participated in almost every kind of event that a woman experiences in her life. It's with all this fabulous practice that she founded What2WearWhere to save today's busy women their precious time by eliminating the stress of dressing for life's events and travel.
About The Illustrator, Laura Glaister: After studying History of Art and working at a contemporary art gallery Lara focused on creating art. Parson's school of design helped her develop her style, succumbing to her childhood passion of costumes and coloring. Travel has always been important to Lara never more so that after living on rue de Seine in Paris life - la vie en rose. The effortless sense of style and Parisian life has never left Lara, which is what drew quite literally Lara to What2WearWhere.com. Her sketches capture perfectly the adventurous spirit of our chicest Packing for Travel muse.