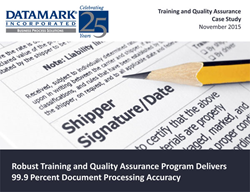 El Paso, Texas (PRWEB) November 21, 2015
DATAMARK, Inc., a leading provider of business process solutions including contact center services, today announced the publication of a new case study focusing on a staff training and quality assurance program for a client's business process.
The client required 99.9 percent accuracy for data capture on a variety of complex forms related to the freight shipping industry. The case study highlights the proprietary training program that familiarized DATAMARK's workforce with the unique lexicon and workflow of the shipping and logistics sector, as well as a quality assurance program incorporating work product audits and a proprietary tool that reviews and corrects errors in critical form fields.
The case study, "Robust Training and Quality Assurance Program Delivers 99.9 Percent Document Processing Accuracy," is available for complimentary download at this link:
About DATAMARK
Celebrating its 25th year in business in 2015, DATAMARK, Inc. is a leading business process outsourcing company specializing in high-volume digital mailroom management, document processing/document management, bilingual (English/Spanish) contact centers and process improvement consulting for Fortune 500 companies and other large enterprises.
Headquartered in El Paso, Texas, DATAMARK employs nearly 2,200 people in its U.S., Mexico and India facilities. For more information, visit http://www.datamark.net. Follow industry news and trends at DATAMARK's Outsourcing Insights blog at http://www.datamark.net/blog.