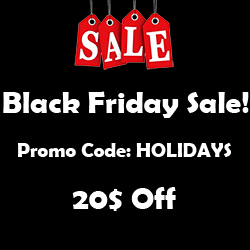 Anaheim CA. (PRWEB) November 23, 2015
CarAutoCovers.com will be holding a weekend-long sales event starting on Black Friday and lasting until Cyber Monday, offering a $20 discount on all orders of over $100 purchased online. The sale begins November 27th and ends November 30th.
One of the leading purveyors of car covers in the US, CarAutoCovers.com currently guarantees the lowest price on all their products and offers free shipping for car covers shipped within the United States and Canada along with a 30-day return policy, all of which have led it to be rated as the #1 online car cover store in the country. The upcoming Black Friday to Cyber Monday sale will further reduce prices on their in-house manufactured car covers, which start at $74.99, while also providing the same award winning customer support and diverse selection of inventory the company has become known for.
Given the amount of time, energy, and money that a car can require, protecting that multi-layered investment is a crucial step for all car owners. The car covers found at CarAutoCovers.com are not only designed to protect a car from the regular wear and tear of time, but also provide protection against the elements of nature, like ice, wind or sun, along with man made threats to a car's appearance like airborne pollution. CarAutoCovers.com offers thick covers to protect against these dangers that also include a soft interior liner to protect the finish of the car, ensuring that a new car can keep looking new for quite some time.
Originally founded nearly a decade ago in New York City on a "by drivers, for drivers" philosophy, CarAutoCovers.com has only expanded since then, currently running operations in Champlain, New York and Montreal, Canada, along with Anaheim, California, where it's headquartered. The company credits strong customer service and years of industry experience for its continued growth, along with an enthusiastic staff that makes an effort to understand both the product and the customer so that every order costs the least and works the best for the car at hand.
Their policy of guaranteed satisfaction has led CarAutoCovers.com to develop their up to date and user-friendly online interface which allows customers to search directly for the right car cover for them, allowing them to specify their search by year, make, model, and trim of their car. Additionally, their role as both the seller and manufacturer of car covers allows them to sell their product at wholesale prices below those of typical retail outlets, while also ensuring the quality of each car cover first hand so that each one not only fits but also lasts for as long as the car needs it.
This factory to purchase model has remained a constant despite the company's growth into an international enterprise that has allowed it to combine the real world experience of drivers with the knowledge that comes with being in business for almost a decade. Today, the business stands as one of the industry leaders for car cover sales, becoming the only car cover company in the US to offer a lifetime warranty as part of its strategy to ensure complete customer satisfaction with its diverse selection of products.
The upcoming Holiday weekend sale marks the company's commitment to offering its customers the lowest price, as well as its dedication to both the consumer and their product. As always, even after the after Thanksgiving rush, CarAutoCovers.com will continue to offer the lowest price on all car covers and honor their commitment to combine award-winning customer service with a high quality product.
Use code HOLIDAYS at checkout!!