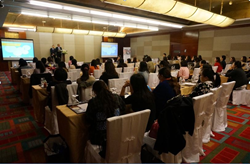 Shanghai, China (PRWEB) November 24, 2015
Global B2B English training provider goFLUENT hosted a corporate seminar on Training Deployment Strategies at the Swissotel Grand Shanghai on October 29, 2015. The event gathered more than 50 human resource and training executives from all over China, who came to learn to implement successful learning deployments that will drive their business competitiveness.
Training is an essential HR component to build a strong corporate identity, retain and shape talent, and successfully compete in the global marketplace. But with several factors to consider—including learner motivation, training design, and progress management, among others—many companies find it challenging to deploy effective programs.
goFLUENT founder and CEO Christophe Ferrandou opened up the seminar with a presentation on today's corporate training market trends. Educational technology, namely eLearning and mobile learning, have come to shape training efficiency. He explained that blended learning, a combination of eLearning and instructor-led training, supports a universal corporate training need in terms of cost and flexibility.
"A large part of goFLUENT's job is to fine-tune corporate training so that businesses can focus on their key objectives," said Ferrandou. "As new means to deploy training continue to transform business competencies, we strive to provide the cutting edge distance learning solutions that will effectively enable our clients to refine their communication strategies for global growth."
Ferrandou also discussed the emergence of the flipped classroom, in which the typical lecture and homework elements of a course are reversed, increasing learning productivity. He added that by empowering learners to take responsibility in studying the core content, their time with trainers can be used more efficiently in validating their new skills.
Finally, goFLUENT's CEO emphasized the value of corporate licenses, which allows corporations to train all of their employees to ensure inclusive development within their organization. He also touched upon the benefits of product customization and technical integration to provide seamless access to training for employees.
The seminar also featured several speakers from various backgrounds who provided additional insights on training deployment for the attendees. Rachel Tang, training and development manager of motion and controls tech company Parker Hannifin, shared her expertise on active learning techniques to make training more fun, interactive and rewarding for employees.
Lighting solutions provider Luma's HR and administration director, Candy Sun discussed the importance of selecting a capable training provider that can deliver a cost-effective, yet comprehensive training program. She also shared the impact of goFLUENT's English training on their company's success.
Qian Ni, learning & development manager of Festo, talked about the key stages an organization must undergo to optimize its chances to succeed a deployment. From training policies and processes through individual assessments and development plans, Ni exposed the A to Z guidelines that allowed the German automation technology supplier to succeed its training shift.
In addition, the event served as an opportunity for goFLUENT to share its latest product developments to its current and prospective clients. "In China, goFLUENT is growing rapidly since we began our operations in 2014," said goFLUENT China and Korea regional director, Rony Rahal. "In just a year, we opened offices in Shanghai, Beijing, Shenzhen and Hong Kong, and finalized partnerships with over 70 global enterprises. We are targeting to have more than 200 clients and 50,000 users in China by the end of 2016."
"Unlike other startups with related difficulties, we are witnessing strong and exceptional responses from the market. HRs from various backgrounds and industries are widely welcoming our solutions and are eager to deploy them in their organizations," Rahal added.
About goFLUENT
goFLUENT offers distance English training combining eLearning, mobile, telephone lessons and written practice solutions. Present in 17 countries, and powered by 550 employees, goFLUENT assists more than 100,000 learners from over 2,000 companies across the world to enable them to perform better in their working environment. To learn more, visit http://www.goFLUENT.com.