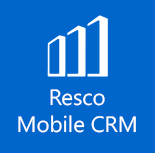 Bratislava, Slovakia (PRWEB) November 23, 2015
Tabby Awards / Business 2015, a global competition that annually recognizes the leading enterprise and business mobile applications, chose Resco Mobile CRM for Microsoft Dynamics CRM as the Best In-The-Field Business App for iPad.
"The slate of apps this year brought the perfect mix of business utility and the clean interfaces that you see in the best consumer apps," said Carson Conant, CEO of Mediafly and the judging panel's chairman, regarding the 2015 entrants lineup.
An international judging panel consisted of 24 independent mobile experts from leading tech companies such as Apperian, Microsoft, Dell or Honeywell. Judges were assigned to each app based on their specific expertise and business experience.
They conducted multiple rounds of assessments focusing primarily on the overall business value, user experience, innovation, design and performance. Through this evaluation process 21 tablet-optimized business apps in various categories were selected as TaAbby Awards / Business 2015 winners.
"We were impressed by the business value of the Resco Mobile CRM app. We could immediately see how it would enable greater mobile productivity across an enterprise – from sales professionals to field service teams," the Tabby Awards judging panel stated about Resco's solution.
Receiving this award means Resco joined the elite club of earlier Tabby Awards / Business winners, which includes companies such as Citrix, SAP, Adobe, Thomson Reuters, AutoDesk, Box, or Zendesk.
About Resco Mobile CRM
Resco Mobile CRM® is the market favorite mobile CRM client for Microsoft Dynamics CRM. The app – which gives users around-the-clock access to their CRM data from anywhere – comes with a full offline mode, interactive maps, support of custom entities & many other attributes that make it the product people love to use.
For more information visit: http://www.resco.net/mobilecrm
About Resco
Resco, founded in 1999, is one of the global leaders in developing cross-platform mobile software solutions. The team of Resco professionals utilizes its knowledge by designing products for corporate customers, developers, integrators and end users.
For more information, please visit: http://www.resco.net