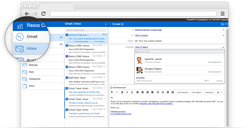 In addition to standard CRM capabilities, a user can manage all email communication directly in the CRM system.
Boston, Massachusetts (PRWEB) November 25, 2015
Resco just launched the Autumn Release of Resco CRM, a standalone CRM software optimized for mobility.
"Our vision for Resco CRM was always simple — we wanted to create a tool that simplifies the daily life for mobile workers, namely sales reps and field technicians. Businesses need a powerful mobile CRM solution rather than a mobile-friendly version of a CRM system. The Autumn update of Resco CRM moves us towards achieving this vision remarkably," Radomir Vozar, CEO at Resco, explains.
The core of Resco CRM is the cross-platform mobile client with advanced customization capabilities. Resco CRM server also has its own web browser client that offers a convenient and fast desktop access to CRM data.
Blending Exchange and Gmail mailbox into Resco CRM is one of the most remarkable updates brought to the server so far. Writing and receiving emails is a very common business activity. It's even more evident for CRM users, such as sales reps, whose main task is to communicate. Resco CRM is made to work with CRM data, even when being offline and on the go and to provide a fully functional email client at the same time.
Resco CRM web client now supports Gmail and Exchange with their full functionality. It means that, in addition to standard CRM capabilities, the CRM user can manage all email communication directly in CRM system. The Gmail and Outlook tools are natively integrated into Resco CRM. This update eliminates the frequent switching between the tools and simplifies the daily communication of any sales rep. Email inbox blended into the CRM system allows every CRM user to receive, send new, reply to, and forward emails just like in Gmail or Outlook.
All emails are connected to the CRM solution, therefore everyone can track them with attachments or create CRM data (new account, contact or a deal) directly from messages. Also, if a Resco CRM user moves a message from Inbox to subfolder, e.g. work, in the email client, the change will be instantly reflected in Resco CRM and vice versa.
The Autumn Release introduces other news to the desktop client of Resco CRM. Resco CRM on-demand supports Active Directory, which enables the automatic authentication of a user before accessing a CRM server. Another noteworthy feature is the improved Export and Import of data (mainly more complex schemes) on the Web browser client.
Resco CRM is fully compatible with the cross-platform Resco Mobile CRM application which is known mainly as an extension to MS Dynamics CRM. For the complete listing of what's new in the Mobile CRM, go to http://www.resco.net/company/news.aspx?file=2015-10-21.
About Resco CRM
Resco CRM is the market favorite CRM optimized for mobility. The core of the product is the cross-platform mobile client with advanced customization capabilities. The app — which gives users around-the-clock access to their CRM data from anywhere — comes with a full offline mode, interactive maps, support of custom entities & many other attributes that make it the product people love to use.
For more information visit http://www.resco.net/rescocrm/
About Resco
Resco, founded in 1999, is one of the global leaders in developing cross-platform mobile software solutions. The team of Resco professionals utilizes its knowledge by designing products for corporate customers, developers, integrators and end users.
For more information, please visit: http://www.resco.net