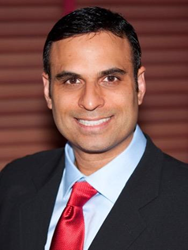 Oak Brook, IL (PRWEB) November 20, 2015
Dr. Amarik Singh spoke at Progressive Dental Institute's most recent Catalyst course for dental professionals who wish to learn tested and proven growth tactics for their practice. A periodontist in Oak Brook, IL, Dr. Singh often uses his over 17 years of clinical experience to educate practicing dentists and dental students nationally and internationally.
Catalyst is the first of a series of courses offered by the Progressive Dental Institute. These courses provide dental professionals, and their office staff, instruction on the best ways to strategically use marketing tactics to improve practice growth as well as patient value. Many dental specialties benefit from this course and were present for Dr. Singh's presentation including, dentists, periodontists and prosthodontists.
Dr. Singh frequently speaks and lectures, sharing his extensive dental and professional knowledge. He often speaks on dental implants and uses his experience placing over 13,000 implants to provide a thorough education. Dental implants are a permanent tooth replacement option for missing teeth. While maintaining a natural face shape, dental implants also look like real teeth, providing a natural-looking smile. Titanium posts are used in each dental implant to ensure every patient's implants last a lifetime while also avoiding bone decay by stimulating the jaw bone. Dr. Singh often instructs dental professionals on the best way to place dental implants, while also educating each patient on what their best option for tooth replacement is before deciding if dental implants are right for them.
Dr. Singh offers an array of services at his dental practice, Periodontal Implant Associates, including dental implants, laser dentistry, gum recession treatment and periodontal maintenance and treatments. Dr. Singh has been recognized as one of America's Top Periodontists and prides himself in providing professional, educational and compassionate care to each of his patients. If you are interested in seeking a periodontist in Oak Brook, IL, you can learn more by visiting Dr. Singh's website at http://www.pidentists.com.
About the Practice
Periodontal Implant Associates is a periodontal practice offering personalized dental care for patients in Chicago, IL. After graduating from Northwestern University Dental School, Dr. Amarik Singh went on to obtain his Specialty Certificate in Periodontics and earn his Master's from Northwestern University. Dr. Singh is deeply committed to continuing education and prides himself on remaining on the cutting-edge of the newest techniques and technology in dentistry. Dr. Singh is part of an elite group of dental professionals at the forefront of the Chao Pinhole® Surgical Technique (PST®), a revolutionary new approach to repairing gum recession. To learn more about the periodontal services available at Periodontal Implant Associates, please visit http://www.pidentists.com or call 630-233-9278.