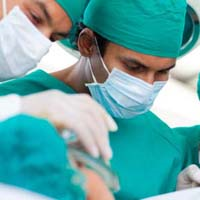 Patients with Ki-67 > 9 % and peritoneal cancer index (PCI) > 17 are unlikely to benefit from the procedure...
Raleigh, NC (PRWEB) November 21, 2015
An Italian research team has published new findings suggesting that a peritoneal mesothelioma patient's Ki-67 level, peritoneal cancer index, and histological subtype can be used to determine whether the patient is a good candidate for surgery. Click here to read the full story, just posted on the Surviving Mesothelioma website.
According to researchers at Fondazione IRCCS Istituto Nazionale Tumori Milano in Milan, Italy, Ki-67, a protein associated with cell proliferation, is a key indicator of probable surgical outcomes in people with peritoneal mesothelioma.
"Patients with Ki-67 > 9 % and peritoneal cancer index (PCI) > 17 are unlikely to benefit from the procedure and should be considered for other treatment protocols," says study author Shigeki Kusamura, MD, PhD.
For the study published in the Annals of Surgical Oncology, the team analyzed the medical records of 102 peritoneal mesothelioma patients who underwent cytoreductive surgery (CRS) and heated intraperitoneal chemotherapy (HIPEC).
"Given the risks and potential complications associated with the CRS/HIPEC procedure, it could be valuable to patients to know ahead of time whether it is likely to extend their survival," says Alex Strauss, Managing Editor of Surviving Mesothelioma.
To learn more about Ki-67 and its potential role in peritoneal mesothelioma outcomes, see New Method Could Help Identify Best Candidates for Mesothelioma Surgery, now available on the Surviving Mesothelioma website.
Kusamura, S, et al, "The Role of Ki-67 and Pre-cytoreduction Parameters in Selecting Diffuse Malignant Peritoneal Mesothelioma (DMPM) Patients for Cytoreductive Surgery (CRS) and Hyperthermic Intraperitoneal Chemotherapy (HIPEC)", November 16, 2015, Annals of Surgical Oncology, Epub ahead of print, http://annsurgoncol.org/journals/abstract.html?v=0&j=10434&i=0&a=4962_10.1245_s10434-015-4962-9&doi=
For nearly ten years, Surviving Mesothelioma has brought readers the most important and ground-breaking news on the causes, diagnosis and treatment of mesothelioma. All Surviving Mesothelioma news is gathered and reported directly from the peer-reviewed medical literature. Written for patients and their loved ones, Surviving Mesothelioma news helps families make more informed decisions.