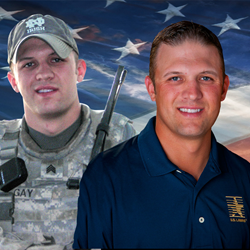 "We are proud that many of our franchisees are military veterans," said U.S. Lawns President Ken Hutcheson.
(PRWEB) November 23, 2015
The national franchisee satisfaction market research firm Franchise Business Review announced that U.S. Lawns has made FBR's annual Top Franchises for Veteran's list – the only list of top franchises for veterans based on data from those who know best – the veterans who own the franchises.
"We are proud that many of our franchisees are military veterans," said U.S. Lawns President Ken Hutcheson. "You have to admire their focus and their seemingly natural ability to see a system and process, believe in it, and follow it to fulfill their goals. That makes for a great partnership between the franchisee and franchisor."
Franchise Business Review analyzed survey data from over 3,000 veteran franchisees representing 285 franchise brands to compile this year's Top Franchises For Veterans research report.
"Many franchises entice veterans to invest via special incentives and discounts, but what really matters is what happens after they buy a franchise. The franchises featured in our Top Franchises For Veterans report have earned the seal of approval from the veterans who own them," says Michelle Rowan, President of Franchise Business Review.
More than 66,000 (one in seven) franchises in the U.S. is owned by a veteran, according to VetFran, a program founded to provide access and opportunities in franchising to veterans and their spouses. This may be because franchises provide veterans with a proven system, the benefits of which they appreciate after having worked within one for so many years. In addition, they enable veterans to simultaneously be in a leadership role and part of a team. This provides them with the sense of belonging they had while serving and the ability to fulfill their mission-oriented nature.
Veteran franchisees often outperform non-military franchisees because of the skills they acquired while serving. Their success is as dependent on the franchise brand they choose to invest in as it is on their experience. Two of the best ways for veterans to determine if a franchise opportunity is really as good as it appears is to speak with current franchisees and to look at its third-party franchisee satisfaction data. U.S. Lawns making Franchise Business Review's Top Franchises For Veterans list shows we have earned the respect of our veteran franchisees.