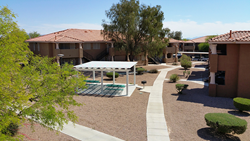 When OpenPath's residents and employees are thriving, so are OpenPath's investors.
Las Vegas, NV (PRWEB) November 23, 2015
OpenPath Investments has acquired Lake Tonopah Apartments for $16.8 million after raising $6 million through its new online investment platform at investments.openpathinvestments.com.
Lake Tonopah, a 356-unit affordable senior housing property, marks OpenPath Investment's first acquisition with equity financing through its new online investment platform. OpenPath raised $6 million in less than 30 days by opening its investment offering to all accredited investors, giving them tools to research, pledge and invest online.
Lake Tonopah Apartments will receive approximately $1.1 million in interior and exterior upgrades. The 22-building, garden-style apartment property is located at 2151 Citrus Hills Avenue in Las Vegas. The gated property features numerous amenities, including a fitness center, resort-style swimming pool, picnic area and covered parking.
OpenPath Investments, with a portfolio of more than 2,500 multifamily units across half a dozen Western states, operates with a socially conscious investment model. Its property management philosophy is based on its Urban Village community concept and environmental responsibility. The Urban Village concept calls for investments in community-building efforts for apartment residents, including tools, inspiration and ideas to enrich their community life — from community gardens, to educational classes and leadership development.
"When OpenPath's residents and employees are thriving, so are OpenPath's investors," OpenPath Managing Director Peter Slaugh says. "We're pleased to bring this innovative investment and property management approach to our residents at Lake Tonopah, and to share this investment model with a wide group of partners through our online platform."
The Lake Tonopah transaction marks a successful inaugural online capital raise for OpenPath. The San Rafael, California-based asset manager provides its investor base and prospects a platform which allows accredited investors to review and make direct investments in real estate projects online. Investors are able to access tax documents, financials and deal documents throughout the life of their investments via a login-protected secure online dashboard.
The investor platform was built and powered by Investor Management Services, LLC.
OpenPath's investor platform and details on the firm's strategy and portfolio are accessible at investments.openpathinvestments.com.
About OpenPath Investments
OpenPath Investments is a triple bottom-line company with more than a decade of experience creating value for its investors, its tenants and its communities. OPI specializes in multi-family acquisitions totaling more than 2,500 apartment units with a total acquisition value exceeding $285 million and a historical investor rate of return of 17 percent or more. The company strategy is to continue generating above-market investment returns alongside measurable social and environmental impact. OPI works with accredited investors and has options for investments at various capital levels. Visit OPI's website, http://www.openpathinvestments.com, for more information.
About Investor Management Services
Investor Management Services offers commercial real estate owners a comprehensive technology platform developed by commercial real estate professionals to attract, engage and manage investors. Featuring online fundraising, intuitive investor and sponsor dashboards, document storage and delivery, and live customer service, each platform blends seamlessly with the sponsor's existing marketing site. Visit Investor Management Services at http://www.investormanagementservices.com.