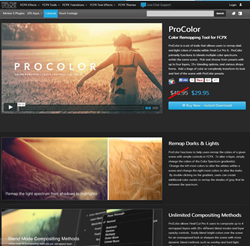 Pro Color functions to help users remap the colors of a given scene with simple controls in FCPX.
Aliso Viejo, CA (PRWEB) January 23, 2016
ProColor is a set of tools that allows users to remap dark and light colors of media within Final Cut Pro X. Pro Color primarily functions to blends multiple color spectrum's within the same scene. Pick and choose from presets with up to four layers, 15+ blending options, and various shape forms. Add a tinge of color or completely transform its look and feel of the scene with Pro Color presets.
Pro Color functions to help users remap the colors of a given scene with simple controls in FCPX. To alter a layer, simply change the colors of the Color Spectrum gradient. Change the left most colors to alter the whites within a scene and change the right most colors to alter the dark. By double-clicking on the gradient, users can create additional color swabs to remap the shades of grey that lie between the spectrum.
ProColor allows Final Cut Pro X users to composite up to 4 remapped layers with 20+ different blend modes and layer opacity controls. Easily blend bright colors over the scene for an overexposed look or sharpen the scene with more dynamic blend methods such as overlay and hard light - The options are endless with ProColor presets.
With Pro Color presets,Final Cut Pro X users are capable of achieving an isolation effects within a given scene. First, utilize the base layer controls to reduce the scene into two colors. Next, utilize the layer(s) to return color(s) to the spot(s) of isolation. Transform footage with Pro Color's simple gradient controls.
Pro Color's on-screen controls allows users to easily orient remapped layers. Scale, position, rotate and feather various shape forms with the click and drag of the mouse. Pixel Film Studios' ProColor is as intuitive as it is functional.
Established in 2006, Aliso Viejo, California-based Pixel Film Studios is an innovative developer of visual effects tools for the post-production and broadcast community. Their products are integrated with popular non-linear editing and compositing products from Apple FCPX. Apple, the Apple logo, Mac OS X, and Macintosh are registered trademarks of Apple Inc. in the U.S. and/or other countries. All other trademarks and trade names are the property of their respective owners.