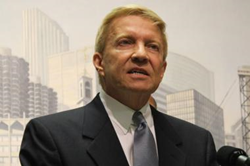 "I decided to run for State Senator because the City of Chicago and the State of Illinois are at an important crossroad,'' Fioretti said. "We are not moving forward, we are sliding backward.''
Chicago, IL (PRWEB) November 20, 2015
Former Ald. Bob Fioretti announced today he is a candidate for State Senator in the 5th District in order to support working families, create jobs, continue his battle for quality education, and fight for safer, better neighborhoods. Fioretti will file as a candidate in the Democratic Primary which will be held next March.
Fioretti spent eight years representing the 2nd Ward in the Chicago City Council, where he created more than 8,500 jobs, including 500 in the Rush Medical Center expansion. Through those years he fought for a living wage, more jobs and fair taxes, for public pensions, for sustainable development, and for unions.
"I decided to run for State Senator because the City of Chicago and the State of Illinois are at an important crossroad,'' Fioretti said. "We are not moving forward, we are sliding backward.''
For those reasons and more, Fioretti is proudly supported by the Service Employees International Union, Local 73, an organization that has been fighting for decades for the same values Fioretti upholds.
Increased funding for Chicago Public Schools.
State income tax reform
A property tax freeze
Increased funding mental health care
Expanded Community Policing
Creating good careers through economic development.
The Pullman native attended St. Anthony's Grammar School and Mendel High School. He received a Pullman Foundation scholarship to attend the University of Illinois, where he earned a Bachelor of Arts in Political Science and served as Student Body President. He earned his law degree from Northern Illinois University College of Law where he remains a member of the adjunct faculty. He served as President of the NIU National Alumni Association and as President of the NIU College of Law Alumni Council.
Fioretti has been involved in more than 500 civil rights cases, and his personal trial experiences have led to more than 100 state and federal verdicts and appellate court decisions. He represented the family of Baby Tamia in the high-profile adoption case that led to changes in Illinois adoption law. He has been appointed in numerous cases as a Special Assistant Attorney General of Illinois and a Special Assistant State's Attorney.
Contact: Tony Boylan, BoylanMedia(at)gmail(dot)com, 312-953-1649