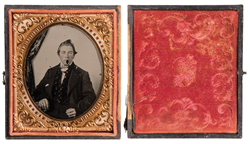 Historic Cased Tintype of a Young Man, Verified by Advanced Facial Recognition Technology as Notorious Western Outlaw John Wesley Hardin, One of the Deadliest Gunfighters of his Age,
ROCK ISLAND, Ill (PRWEB) November 22, 2015
An original tintype photograph of Western outlaw John Wesley Hardin will be sold at Rock Island Auction Company's 2015 December 4-6 Premiere Firearms Auction. Estimated between $30,000 - $50,000, the photo has been verified to be the notorious gunfighter by a former VP in the facial recognition industry. The diminutive photo carries a disproportionately large historical significance as original photos of many western figures, let alone outlaws, are true rarities. Hardin was charged with 27 murders, though in his own biography counted 42 deaths at his hands. In 2011, an original, authenticated tintype of Billy the Kid sold at auction for $2.3 million.
View the item and photos, lot 1235
In the news very recently has been much publicity about a second authenticated photo showing the notorious American outlaw Billy the Kid. It is rightfully big news as the last auctioned sale of a verified Billy the Kid photograph took place in 2011 to the tune of $2.3 million.
John Wesley Hardin is another infamous outlaw of the American West that was as bad as they come. At 15, he killed his first man who tried to ambush him in retaliation for losing a wrestling match, and then killed the three soldiers who came to capture him while on the run. Not bothering to learn other less-than-savory skills like robbery or gambling, Hardin was a gunfighter through and through. He was quick to anger, ready to fight, and skilled with his gun. Intentionally or not, Hardin once even fired drunkenly through a wall at a snoring man in an adjacent hotel room. He may have meant to wake the noisy neighbor, but instead one of the bullets entered the man's skull and the snoring stopped forever. Though harboring a venomous disdain for slaves, holding them partially responsible for the ruin of the south, Hardin's guns knew no bias. He killed whites, slaves, Mexicans, freemen, gamblers, marshals, sheriffs, deputies, Yankees, Texans, Native Americans, and those known only to God. By the time he was captured by Texas Rangers he would be charged with 27 murders (though there are 42 by Hardin's own count). He would serve 17 years, during which he would run the prison Sunday School and obtain his law degree. While practicing law in El Paso after his release, it wouldn't take Hardin long to involve himself in trouble with the local law. Unfortunately, he chose the wrong folks to tussle with and one of them put a bullet in the back of his head while he was playing poker in the Acme Saloon.
In the video, the photo is compared to an authenticated photo of Hardin by Mr. Bob Schmitt, the former Vice President of Biometrica Incorporated, a company that supplies facial recognition software to casinos and law enforcement. In his opinion the photos are unmistakably of the same man. Previous photographs of Hardin have been identified and appraised for $30,000 - $50,000 and have even appeared on the popular PBS program Antiques Roadshow. This tintype presents an amazing opportunity for aficionados of the Wild West or collectors of the lawless pages in American history.