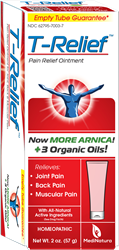 "MediNatura's mission is to improve lives with serious medicines from nature."
Berwyn , PA (PRWEB) December 07, 2015
According to a 2011 Centers for Disease Control and Prevention (CDC) report, it is estimated that nearly 15,000 people die every year of overdoses involving prescription painkillers1 and according to a 2003 report in WebMD, 16,500 people die each year of NSAID-related problems2. These tragedies typically occur when pain pills fail to provide full relief and consumers take more pills than are recommended. This occurs in three situations:
1) Their pain out-lasts the 10-day period for which continuous use of pain drugs are safe
2) They take the recommended dose of pills but still have pain -- recent European research shows that 54% of people do not get full relief
3) Stomach and liver damage are also possible when consumers abuse pain pills.
MediNatura™, the makers of T-Relief™ has begun a national advertising campaign encouraging consumers to not risk damage to their internal organs through over-medication. Rather, they could add natural T-Relief ointment to their appropriate pain regimens. T-Relief ™ has no known interaction with other medicines and provides extra relief, safely.
See Announcement Here
Organic Upgrade
This campaign coincides with the launch of majorly improved T-Relief formulations. "We've added organic oils and extra medicine to make the best T-Relief yet!" said Cathy Raish, MediNatura's head of product development. "New T-Relief ointment's base formula has a wonderful feel because it now has organic aloe oil, organic coconut oil, organic safflower oil and natural shea butter. Plus we've added 10% more arnica than our previous formula which, combined with T-Relief's 12 other natural pain relievers, provides deep safe relief."
"We now offer an empty-tube guarantee, "said Jessly Raj, marketing director "Consumers can use the entire tube and get a full refund if they're not satisfied."
Availability
T-Relief™ is available in all health food stores like Wholefoods, Sprouts, and progressive chains like Wegmans and CVS. Click here to check a Store near you
We're also excited to announce that T-Relief can now be purchased directly from MediNatura.com and T-Relief.com. This helps us develop a closer relationship with our consumers so we can understand and respond to their needs. Our sites offer special features, such as coupons and the ability to search for product details.
Receive free shipping on purchases of $25 or more. Buy T-Relief Online!
About MediNatura Inc.
MediNatura™ Inc. is a pharmaceutical company with the mission of providing serious medicines with exceptionally low side effect profiles. It does this by making prescription and over-the-counter medicines from natural substances. MediNatura Inc. is headquartered in greater Philadelphia with a factory in Albuquerque New Mexico. For more information on MediNatura medicines visit http://www.MediNatura.com
These statements have not been reviewed by the Food and Drug Administration. They are supported by traditional homeopathic principles.
Sources:
1- http://www.cdc.gov/vitalsigns/painkilleroverdoses/
2- http://www.webmd.com/pain-management/news/20030130/when-relieving-pain-raises-risk
3- Rheumatology 2015; DOI: 10.1093/rheumatology/keu332.