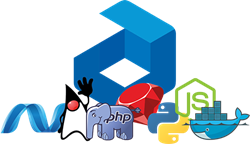 We believe that the eApps PaaS gets the highest marks for ease of use, speed, reliability, support, and value. Developers needn't take our word for it. Our free trial program allows them to decide for themselves. Rick Lingsch, President
(PRWEB) November 24, 2015
The eApps Platform as a Service (PaaS), powered by Jelastic, is a "next generation" cloud hosting service that is designed for developers, and is rock solid for production. Popular development tools (Ant, Maven), repositories (git, svn), and IDEs (Eclipse, IDEA, NetBeans) are integrated which makes it easy to deploy and manage web applications. The platform provides a full suite of popular applications and has advanced support for Docker ® containers. Developers can use Java, PHP, Ruby, Python, and Node.JS with the eApps PaaS.
A powerful feature of the service is automatic scaling, which ensures smooth operation of the web site during changes in usage. In the Jelastic Dashboard, developers can set a minimum reserved, and a maximum dynamic allocation of resources. Dynamic resources are scaled up and down to meet changes in demand, with no downtime.
The "pay for what you use" billing model charges customers only for the CPU and RAM needed to meet demand. With autoscaling, customers do not have to buy a server large enough to handle peak demand. Disk storage billing is also based on actual usage rather than a predetermined expected maximum required disk size.
The eApps PaaS runs on a high performance infrastructure, using 100% SSD storage, in Softlayer's Dallas data center. Other points of presence are planned in Europe, South America, Asia, and Oceana, to best serve eApps' world wide customer base. The company also expects to support Windows applications in the near future.
eApps provides documentation and free support, including "on-ramp" assistance for those customers that need it. Customers have full visibility of their usage and billing details for the service via real time reporting in their Jelastic Dashboard. The PaaS service is backed by eApps Hosting's in-house 24/7 support.
Developers that want to try out the eApps PaaS can take advantage of a free 14 Day Trial offer, which can be activated at http://paas.eapps.com. For additional information contact eApps Hosting at +1-770-448-2100 USA or +44 (0)20 8133 6940 UK, Skype: eappshosting, sales(at)eapps(dot)com, or visit http://www.eapps.com for on-line chat assistance.
Apps Hosting is a value-added provider of cloud hosting services for businesses and organizations, serving more than 5000 customers, hosting over 15,000 domains in more than 125 countries. eApps Hosting offers hosting and related services for mission critical web sites and applications, as well as enterprise grade email services, with highly personalized, responsive service.
Jelastic is a trademark of Jelastic, Inc.