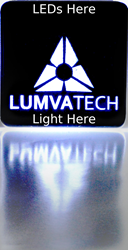 Increasing demand forecast forced this move. The timing of this move was ideal.
Williamston, SC (PRWEB) November 24, 2015
Lumvatech has completed the production facility transition from Anderson to Williamston, SC. The official relocation date was October 15 and the move was completed October 20. All production, data management, quality, and material handling systems are now fully operational.
The new facility located in an industrial park environment provides a consolidated production facility. The current build out is 3500 square feet which roughly equals the earlier Anderson, SC space. The product flow and efficiency are now optimized within the equivalent space. The product flow from incoming polycarbonate sheet material to complete thin light panels has been streamlined. The management team reports that the new building has space for future expansions to 10,000 square feet and beyond. The new facility includes dock high capability, lift ramp, and forklift availability to allow more efficient incoming material and finished product shipment.
"The consolidation of the facility and equipment reset improved the product flow and production efficiency," stated Alan MacDonald Director of Operations. "The improved access allows us to take full advantage of LTL shipping by box or pallet." The move and equipment reset was completed by company employees.
"The relocation and expansion were planned steps in the continued growth of the company" stated Aaron Meltzer company president. "The increasing demand forecast over the next 1-3 years required this move to a larger facility."
The industrial location near I-85 and closer to Greenville Spartanburg Airport improves access for shipping, visitors, and employees. The location nearer the larger Greenville population center opens that area to employee recruitment as the company continues to add staff. The company revamped their web site to reflect the new location and to refresh technical and product information for their thin light panels used for LED backlighting. The company welcomes customers, vendors, and industry visitors to their facility at 112 Twenty Nine Court, Williamston, SC 29697.
About Lumvatech
Lumvatech is a leading U. S. based manufacturer of ultra thin planar light panels for LED backlighting. Proprietary technology allows custom thin solutions for human machine interfaces with dome, membrane, and electronic touch switches, logo nameplates, and POP display lighting. Lumvatech products are available exclusively to the HMI and advertising production channels.
To gain additional information please see lumvatech.com or click for CONTACT INFO.
To view Lumvatech product portfolio CLICK HERE to visit the Lumvatech channel at YouTube or see our COMPANY PRESENTATIONS on SlideShare.