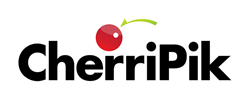 Bloomsbury, NJ (PRWEB) November 23, 2015
The days of boring mapping software apps with generic location pins are over thanks to the debut of CherriPik. Created to assist users in finding their favorite brand named stores, restaurants, and places to stay, this free smartphone app improves the user experience by showing recognizable brand logos right on the map.
A perfect combination of mapping software, an extensive business database, and GPS technology allows users to find their favorite brands within 20 different categories. When the map populates, each location's brand logo appears on screen making them easier to identify than the usual pin dots used in other mapping apps. Common touchscreen gestures are used to move, expand, or contract the map.
The app will be popular with travelers, whether they're traveling for work or pleasure, since it helps them find places to eat, stay, and shop while in an unfamiliar city or town. It's also a great ally in the event of a cancelled flight or when lost on a road trip because it helps users locate the resources they need.
Users simply tap on a brand logo and swipe up on the screen to see details about that business location. They can place a direct call to the business, get driving directions to it, as well as rate that location against other same brand locations.
The Add to Favorites feature allows users to create a custom category of the brands they like, while the Hide a Business feature removes brands they no longer want to show up in results.
A built-in reporting tool allows users to submit updates to CherriPik regarding changes to a location, hours or status of a business. This important feedback allows the app's developers to update the robust national business database that powers the app.
Included in the app is an integrated offer system available for registered brands to provide national, regional, or single store discounts and incentives. App users will simply use the onscreen offer at the related business in order to redeem it.
A series of six short how-to videos on the app's web site walk users through the basic functions.
CherriPik is a free new smartphone app that uses sophisticated mapping software in conjunction with GPS to help users locate their favorite retail, restaurant, and hotel brands anywhere in the country. It allows users to find what they need on the go whether they are traveling or near home. CherriPik is now available for download from the Apple App Store and Google Play. Connect with us on Facebook and Twitter.