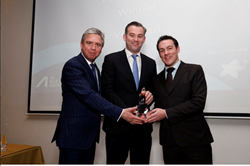 This award is evidence that the hard work of our team has paid off.
Dublin, Ireland (PRWEB) November 21, 2015
Vizor Software, the provider of the world's leading financial supervisory software, announced today the Company was named the winner in the Technology category at the inaugural eir Elevation Fast Company Awards, 2015.
The awards are a unique recognition of the growth and ingenuity of the fastest growing businesses across Ireland. Vizor Software was one of six finalists in the Technology category sponsored by Future State. All companies shortlisted in the Technology category excelled as a leader in technology solutions and the implementation of technology and technological innovations across industries. This category placed a specific focus on technologically intensive companies who use technology for problem-solving and innovation across the areas of social media, digital, mobile, cloud, software development and big data.
"Our people are the most important part of our success," said Joint CEO Ross Kelly, who accepted the award on behalf of Vizor. "We have a very committed and engaged workforce."
"We are honoured to receive this recognition in the Technology category. This award is evidence that the hard work of our team has paid off," commented Conor Crowley, Joint CEO of Vizor Software.
Vizor joins an esteemed group of seven organisations that won accolades at the award ceremony, which took place Friday, November 20th at the Marker Hotel in Dublin.
For more information about the awards and a complete list of the 2015 winners, visit http://fastcompanyawards.com
About Vizor Software
Vizor Software has been the standard for financial regulatory technology since 2000. Leading the way in regulatory supervision software, Vizor Software is trusted by Central Banks and Financial Regulators from around the globe for the collection, validation and analysis of highly complex data from Financial Institutions. Serving the needs of financial regulators in more than 30 countries, Vizor Software is a trusted partner of large consulting firms and leading XBRL toolset providers. Employing a collaborative, agile approach to implementing regulatory solutions, Vizor Software simplifies and strengthens financial regulation systems.
You can learn more and visit Vizor Software at http://www.vizorsoftware.com or by following Vizor Software on Twitter, LinkedIn, Google+ and Pinterest.