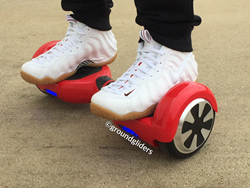 Change the way you move !
(PRWEB) November 21, 2015
GroundGlidersUSA.com releases two different model hover boards for the holidays.
GroundGlidersUSA.com has released two new Hoverboard models for the holiday season. The first one is the original Ground Glider that features fast charging, speeds of 6.2mph, and can be used by all age groups. The Ground Glider V2 model features a new design and 4.0 bluetooth technology that connects to all mobile devices. The V2 model offers crisp sound through two speakers while riding.
Ground Gliders can cruise at speeds over 6mph and multiple color options are now available for both models. With new high powered Samsung batteries and smart battery management technology a full charge takes around 90 minutes and will last up to 13 miles.
Both new hover boards are environmentally friendly and leave no dangerous chemicals/toxins in the air.